Baltmore, Maryland — Gertrude's is located in the Historica Cultural Center of Baltimore and is one of the restaurants featured during Baltimore's Restaurant Week through February 7th, 2010. Visit Donne's World for additional Restaurant Week Reviews and menus. Visit here for Chef John Shields' recipe for
Mount Vernon and Canton
The Mount Vernon neighborhood is Baltimore's Cultural Heart and the restaurants to be found here are reflective of the diverse arts to be found at the Baltimore Museum of Art, the Myerhoff Symphony Hall and the Peabody Institute.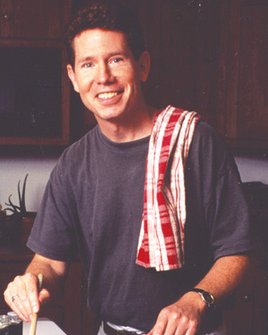 Looking out over the museum's magnificent sculpture garden, I can often be found at one of my favorite Baltimore dining destinations - Gertrude's at the Baltimore Museum of Art.
Chef John Shields has been creating classically inspired Chesapeake Bay cuisine with fresh farm-to-the-table dishes at Gertrude's since 1998 where the interior is inspired by the Eastern shore that so strongly influences Chef's menu.
A perfect Sunday can be had when Chef Shields' incredible brunch is followed by a leisurely afternoon exploring the collections and exhibits at the Baltimore Museum of Art.
Living near the Eastern shore, the term "Best Crabcakes in Maryland" is easily bandied about, however in my opinion Chef Shield's are truly the best. Gertie's Crab Cakes, named for Chef's grandmother, are traditional "all lump" crab cakes created from their namesakes recipe.
The menu allows diners to customize their "cakes" with a choice of sauces. I asked for three out of the eight offered, opting for the Hollandaise, Three-Mustard and Basil-Caper Tartar.
My favorite was the Three-Mustard, though all were delicious. One the side I chose the Apple-Fennel coleslaw to balance the sweet of the crab cakes and the richness of the Cheddar Pearl Hominy that also graced my plate.
This was incredible.
Other Brunch Favorites include Tommy's Hot Cakes, a tall stack of Buttermilk Pancakes and Chef Shields' Seared Scallops, served like Gertrude's Crab Cakes with a choice of sauces and sides that includes a selection of brunch potatos, fruits, salads, rice, pastas, vegetables or two eggs, prepared to your choice.
A brunch plate satisfying on all levels of the taste spectrum was further enhanced by fresh orange juice and a tart, flavorful Dirty Gertie's Bloody Mary.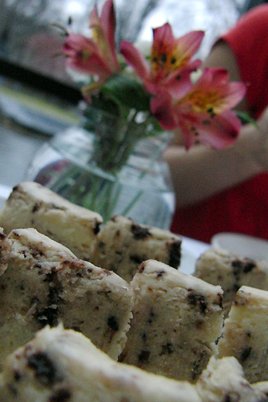 The cream at the top of this meal was an assortment of deserts including sumptuous pear-ginger, coconut and mulled apple cider sorbets; Gertrude's Candy Bar, a rich chocolate and salted soft caramel with hazelnuts and chocolate sauce and inspired by Baltimore's cookie tradition, the Berger Cookie Cheesecake, created with a Berger Cookie Crust, the cheesecake is imbued with more cookies and served with a roasted cocoa nib tuile and caramel sauce.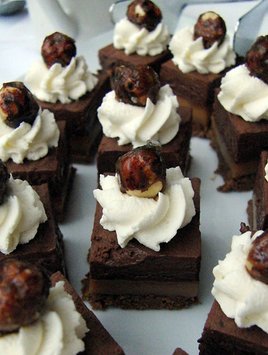 For Restaurant Week, Gertrude's offers a Prix Fixe Dinner ($35.10) that includes a choice of starters – a Traditional Oyster Stew, Roasted Beet Salad, Chessie Sliders made with Gunpowder Bison and the Roasted Vegetable Terrine with grain mustard and sesame flatbread.
For you entrée course, I can personally recommend the Maryland Rockfish, a filet wrapped with house-made bacon and celery root-Yukon Gold Potato puree and rainbow chard.
Other choices include a brined Pork Loin with brandied fig-apple compote, sage-cornbread dressing and maple-glazed green beans; grilled Top sirloin Steak with Bordeaux demi-glace, sweet potato has and honey glazed Brussels sprouts; a Mussel and Marvesta Shrimp Bourride or the Began Italian "Sausage" Ravioli made with baby rainbow chard and caramelized onion with a roasted herb-tomato sauce and frizzled leeks.
Deserts created by Executive Pastry Chef Doug Wetzel
Restaurant Week in Baltimore Maryland run through February 7th and showcases more than sixty Baltimore based restaurants.
Gertrude's – John Shields' Restaurant at The Baltimore Museum of Art
Chef John Shields
600 N. Charles Street
410-547-9000
Jacquie Kubin is a 15 year, award-winning veteran of travel and culinary writing. Today Jacquie edits and directs a staff of writers for Donne Tempo Magazine and is always looking for new talents who wish to expand their horizons. Email Jacquie with ideas, questions or to share your writing dreams. Follow Donne Tempo on Twitter and Facebook.

---
This article is the copyrighted property of the writer and Communities @ WashingtonTimes.com. Written permission must be obtained before reprint in online or print media. REPRINTING TWTC CONTENT WITHOUT PERMISSION AND/OR PAYMENT IS THEFT AND PUNISHABLE BY LAW.