By Matt Payne, Special to Donne's World
Atlanta, GA — Sharing space with Atlanta's historic CNN Center is The Omni Hotel. Located in the beautiful downtown area, guests can't help but feel the global significance of this Southern city upon entrance into the warm and elegant yet comfortable lobby of this magnificent hotel.
One enter's a life of ease upon parking at the property. Smiling, top hat wearing bellboys cheerfully rush away with your bags that magically appear in your room as you are shown to the hotel lobby.
Once in this warm, spacious lobby, expect little wait and a graceful and courteous check-in.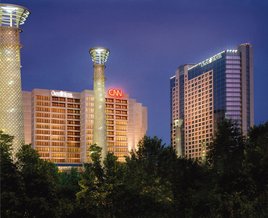 The Omni Hotel, Atlanta, Georgia
In addition to its close proximity to these alluring attractions, what makes the Omni Atlanta truly unique is that it is the international headquarters of the Cable News Network, more commonly known as CNN.
If guests arrive early, they are encouraged to enjoy one of the many seating areas complete with comfortable couches, beverages from the bar and flat panel televisions or to get travel advice from one of many available and well-informed concierge who will gladly share the various culinary and cultural experiences the city has to offer.

Food in Atlanta is good.

Situated just east of the Georgia Dome and the Georgia World Congress Center The Omni Hotel rests as the premiere spot for business travelers and convention goers proven by the dark suits brusquely moving about, busily chatting on the phone or tapping away at their computer.

But The Omni at the CNN Center is not a haven for just the business traveler. The hotel also buzzes with the energy of tourists eager to explore culturally relevant and educational centers like The Georgia Aquarium and the New World of Coke located just a Peach stone's throw away from the property.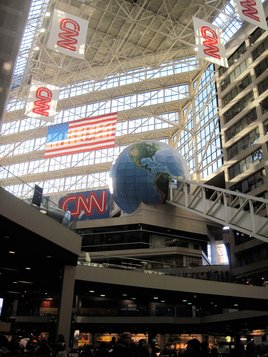 Guests of the hotel can literally take the elevator from their hotel rooms to find themselves an inexpensive ticket away from an informative and entertaining tour of one of today's most widely watched news sources.

Not only is the Omni close to some of Atlanta's most significant attractions, but it is also a short drive away from the city's midtown, home to an array of restaurants and shopping centers such as the newly developed Atlanta Station.

Atlanta Station is a mixed-use development that has been developed as a sustainable community. Awarded Atlanta's Green Star for its comprehensive approach to a planned community that addresses issues like land use, air and water quality it is a model for urban development.

Parts of the project, such as the 171 17th Street Building, a 500 thousand square foot office tower has received the coveted Leadership in Energy and Environmental Design (LEED) Silver Designation.

Atlanta Station was developed on the site of a former steel mill and what was an eye-sore now combines housing, shopping, entertainment and exhibit space creating a micro-city within the city.

After a day of traversing Atlanta's above ground, and underground, streets it's a pleasure to return to the Omni where the rooms are well equipped with gourmet Wolfgang Puck Coffee, beautiful water glasses and most rooms have windows with breath-taking views of the city and it's various sites.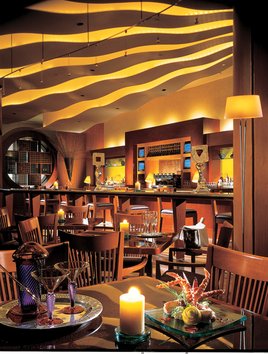 Upstairs in the lobby of the hotel, after enjoying the sunset over a glass of your favorite wine or beer in the hotel's Latitude's Bar, guests can dine in the Omni Hotel's very own Prime Meridian Restaurant.

Diners at this fine restaurant can enjoy watching the chefs as the feverishly prepare tantalizing entrées in the open kitchen helmed by Chef Geoff Southwick or they can enjoy the panoramic view of the city skyline from any table.

Non-invasive but well-attentive waiters happily make suggestions from the Meridian's diverse and carefully planned menus. Perfectly prepared and garnished Bronzed Sea Scallops lead the way on the appetizers list with the Lump Crab Cakes a close and mouthwatering second.

Before enjoying one of the many delicious entrees, one would be erroneous not to try the Baby Spinach Salad served with a bacon-flavored vinaigrette, a truly unique flavor that will leave you eager for more. Fortunately the meal hardly ends here.

A masterfully cooked rib-eye steak served with whipped potatoes and carrots is enough to satisfy the carnivore in anyone.
Most unique is the Sinless Indulgences desert tray. Guests are not forced to choose only one of the beautiful deserts on the menu but instead get to indulge in a spoon-sized sampling of all of the thoughtful deserts. These treats range in style and flavor from decadent chocolate mousse to a sampling of season fruit. A sublime key lime pie to a delicate Tiramisu.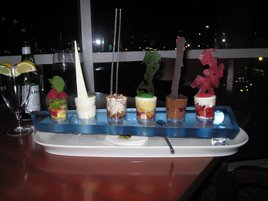 After dinner, guests can check their email using the hotel's wi-fi service available for a small fee, watch an assortment of films not yet available for rent or simply fall asleep in the comfort of a freshly turned bed, while looking out a large window onto crowned majestic tops of Atlanta's tallest skyscrapers flicker and dance into the night. Hotel employees even make nightly rounds with buckets of ice in case the guests are in need.

The next morning your room service breakfast can be worked off at the Omni's fitness center. Here, calories can be can be burned on an assortment of the latest cardiovascular equipment, each equipped with its own television and provided headphones.
If treadmills aren't your style, guests can turn that protein from the previous night's steak into muscle with any number of the gym's free weights or weight machines. Once finished, guests can muse over the rest of the day's activities while decompressing in the gym's dry sauna.

The Omni Hotel is a stunning hotel that has it all. Friendly service, a prime location, extra-ordinary food, unrivaled comfort all set against the backdrop of a world-renowned news network and the patriotic whisper of the Olympic Park.

It makes sense to consider the Omni a prime spot to make the most of the city of Atlanta whether you are traveling for business or simply for the satisfaction that comes in exploring a new and unique city.
Matt Payne, a graduate from the University of Oklahoma, is an award-winning screenwriter and has worked in Hollywood in both film and television for eight years. In addition to authoring multiple screenplays, Matt is also a musician and a devoted traveler.
To read more of Matt's work please visit his blog or his work at Donne Tempo Magazine. You can also follow Matt on Facebook at Twitter.
---
This article is the copyrighted property of the writer and Communities @ WashingtonTimes.com. Written permission must be obtained before reprint in online or print media. REPRINTING TWTC CONTENT WITHOUT PERMISSION AND/OR PAYMENT IS THEFT AND PUNISHABLE BY LAW.