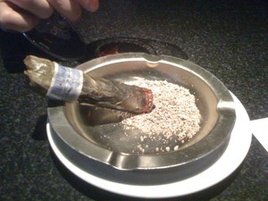 When is a cigar not just a cigar? When it appears at molecular gastronomy shop
Moto
, in the Fulton Market neighborhood of Chicago.
Molecular gastronomy is a branch of food science that explores the physical and chemical processes that affect cooking. This may sound like a pretty dry bowl of rice, but not at Chef Homaro Cantu's shop. Moto playfully mixes cutting-edge technology (don't even start asking about the patents) with your meal. Don't play with your food - the chefs are doing it for you already.
5:10 The menu arrives printed on a pita cracker. Crispy and lemony… and papery. The printed menu reminds me of thick rice paper. Much tastier than the note from Beth I had to eat in an emergency in the 7th grade. Questions about the menu are met with replies of, "I can't talk about it - there's a patent." Dinner already smacks of intrigue and this is only the first course.
5:24 White Steel. This dish is a deconstructed form of the executive pasty chef's favorite drink, the white steel. What appears on my plate is : a perfectly seared piece of fish, a small gob of what looks like dry bubbles, and an inocuous-seeming section of grapefruit. Scattered about are tobiko (you know, the little orange fish eggs on California rolls.)
A White Steel is made of club soda, grapefruit juice and gin.
The grapefruit is carbonated and fizzes on the tongue. (The tobiko are the "bubbles". Get it?)
The styrofoam turns out to be gin cotton candy sprinkled with juniper essence. Eating it makes me giggle - it melts into nothing. Cotton candy isn't supposed to taste this grown-up.
The fish is… hmm. There's no fish in a White Steel. It's nothing more than perfectly cooked - but I'll take that.
5:34 Gruyere & onions. An oblong bowl with a brown paste smeared on one side, accompanied by a large white bangle of something. An addition of rich broth translates the dish into french onion soup. The paste is liquefied baguette and gruyere, maybe carmelized with a hand torch. The consistency of the big crispy ring slightly reminds me of the big styrofoam-esque shrimp chips my parents used to fry when I was a kid. The spoon is full of carmelized onions.
5:50 I am eating a cigar in an ashtray. The cigar is filled with a flavorful cuban pork plus greens with an edible paper ring. It looks precisely like a stogie some newspaper vendor has been chewing on since 6AM. The pork is tender, and the paper band is printed to look like an authentic cohiba label. The "ashes" are actually black and white sesame seeds ground up and mixed with soffrito spices. Fabulous. I begin campaigning for a box of cigars to take home but am gently rebuffed. However, the night's not over yet.
An interlude: Our host tells us the kitchen lab has a "sonificator" (his word, not mine) that sonically emulsifies stuff at 40 megahertz. The "Phunnel cake" is not on our menu (funnel cake made from a PHEASANT) but there's always next time. Because, oh yes, there will be a next time.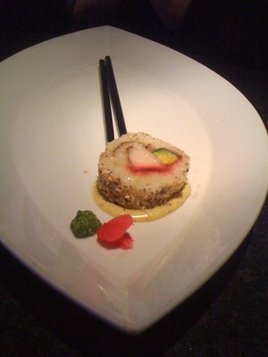 6:04 This is not sushi. It's a sushi trompe l'oeil; rabbit and Brussels sprout, allspice aioli. The wasabi blob is English peas. The rice is really rice - but it's a creamy risotto. Highly unstable structure but tasty and warm. These food illusions are the exact opposite of the average fancy pants wedding cake, which looks gorgeous but tastes like newspapers. In Moto's dining room, your food may not taste like what it appears to be - but it's still delicious.
6:16 Rabe and pork belly. Husband takes a bite and pronounces: "If the germans had cooked pork belly like this, the french would have surrendered even faster." As if that could have happened… faster. The pork is fork tender and the fat cap is creamy. Sweet sauce with the rabe. A little crisp, a little creamy. Paired perfectly with a smoky marzen beer.
6:10 Reuben lasagna. Spicy - piquant without burning you up. There's a crunchy chip which turns out to be made from a paper-thin slice of dill pickle.
6:43 Mole cannoli. "Did you just say mole cannoli?" "Yes." That's a duck confit inside there; the "cheeses" are corn powder (yellow) and jalapeno/asiago powder (white) Imagine savory powdered sugar. I suspect the corn powder figures in a dish on the 20 course menu called "Yellow snow".

6:55 Phad Thai - for dessert! Sesame ice cream masquerades as a block of tofu, extruded rice pudding stands in as rice noodles. The lime is actually lime - but a gel, with a coconut gel rind.
7:07 Carrot cake. Only, not a cake. A cream cheese frosting bonbon for the shell, filled with electable carrot liquid. Pink topping crust is maraschino cherry and coconut shred, delectable. The carrot interior is a creamy liquid and lovely. I never thought I'd say this but the paired sauternes is a bit of a letdown after this dessert.
7:19 Tuber melanosporum. Visually, the "dirt" reminds me of flowerpot cake (fake dirt made of Oreos, that sort of thing) What looks like a chocolate geode is a featherlight truffle filled with (I think) a strawberry cream and topped with truffle oil.. Rocky crumbs on the base are chocolate malt with praline for crunch.
We are treated to a quick tour of the kitchen, where executive pastry chef Ben Roche graciously takes a moment from the busy dinner service to chat. He says in the beginning there was a real tendency to make everything look like something else, but since then the menu has evolved - fewer overall food illusions, but still plenty of creative leeway.
Throughout the kitchen are scattered various bits of equipment - the sonic emulsifier, what looks to be a modified food printer (but we can't talk about that). Nearby stands a chrome box the size of a standalone range - the newest toy, a vacuum oven. "We haven't learned to use that one yet," we're told. We'll be back to find out what happens next.
Amie Beal is normally located in the Helping to Homeschool column but does, on occasion, get out of the schoolroom for a good meal.
---
This article is the copyrighted property of the writer and Communities @ WashingtonTimes.com. Written permission must be obtained before reprint in online or print media. REPRINTING TWTC CONTENT WITHOUT PERMISSION AND/OR PAYMENT IS THEFT AND PUNISHABLE BY LAW.