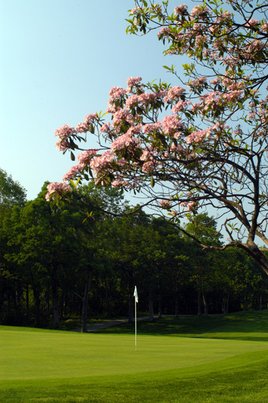 Wintergreen Resort Golf Course
Wintergreen, Virginia… The snow has melted from the greens and there is no better place to experience the joys of a blossoming spring than the majestic Blue Ridge Mountains.
Plenty of activities for the kids, spa time for mom and the golf links for dad, or vice-versa, combine to create a fun, last minute Easter Weekend excursion.
Tomorrow, Friday, April 2nd through Sunday April 4th celebrate spring and the Easter holiday at Wintergreen Resort with plenty of fun, Easter oriented activities and spring walks through the greening trees of the Blue Ridge Mountains.
On Saturday, guests will enjoy the Easter Eggstravaganza at the properties Lookout Patio. Featured activities including egg and cookie decorating, Easter bonnet and bright sun catcher making, potting spring pansies and a peep roast.
One lucky child will win a very special prize when he or she correctly guesses the number of jellybeans in the jar.
On Easter Sunday, families can join together in the Wintergreen Ballroom for a non-denominational service at 9am followed by an Easter bonnet parade and a traditional Easter Egg hunt.
Following the parade take the family to The Copper Mine Bistro where you will enjoy traditional Easter treats like Roasted Leg of Lamb and Honey Mustard Pit Ham as well as delicacies such as Poached Trout with Chipotle Lime Sauce and Oysters on the Half Shell or The Stoney Creek Bar & Grill where the Easter Buffet will include Baked Maryland Crabcakes and smoked salmon to enjoy a sumptuous, no-work for mom, Easter Buffets.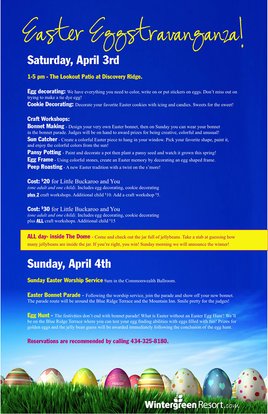 Wintergreen Easter Weekend Menu
Lodge Rooms to two-bedroom condominiums ranges from $330 to $550 for a two-night stay. Easter Weekend activities and meals are ala Carte.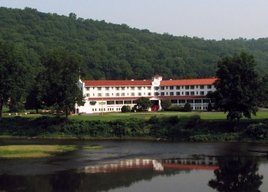 Shawnee Inn and Golf Resort
From the Blue Ridge Mountains head to the foothills of the Pennsylvania Poconos Mountains and The Shawnee Inn and Golf Resort. The resort sits alongside the Delaware River in Shawnee on Delaware, Pennsylvania with plenty of large vista lawns perfect for running freely while looking for decorated Easter Eggs.
The resort is offering both a one and two-night Easter Weekend packages that start at $424 per night per family of four.
In addition to accommodations, the weekend packages include a family Easter Basket, Saturday night dinner, Easter morning buffet, egg hunts and visits from the Easter Bunny throughout the weekend.
If overnight travel does not fit into your weekend plans, visit Lansdowne Resort on the Potomac and enjoy an incredible Easter Buffet. Throughout the day there will be Easter Egg hunts, balloon artists and arts and crafts areas for the kids.
Mr. and Mrs. Bunny will be around all day, hopping in and out of activities while Executive Chef Wesley Rosati oversees a full buffet experience that will include regional and seasonal foods and traditional deserts.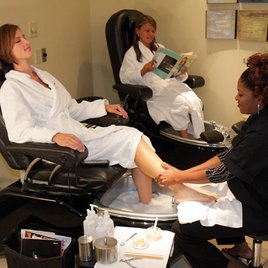 Throughout the day there will be Easter Egg hunts, balloon artists and arts and crafts areas for the kids.
And if mom can find an hour or two, all of these resorts have quality spas — the perfect spot to treat yourself this Easter.
411:
Wintergreen Resort
Route 664
Wintergreen VA 22958
434-325-8003
The Shawnee Inn and Golf Resort
One River Road
Shawnee on Delaware, PA 18356
800-742-9633
Lansdowne Resort
44050 Woodridge Parkway
Lansdowne, VA 20176
703-729-8400
NOTE: Neither the writer, Donne Tempo Magazine, Donne's World or the Communities at The Washington Times set, control or can be held responsible for final costs or promotional package availability.
Jacquie Kubin is a 15-year, award-winning veteran of travel and culinary writing. Today, Jacquie edits and directs a staff of writers for Donne Tempo Magazine, where you can read more of her entertainment, travel and culinary reviews. Jacquie is always looking for new talents who want to expand their horizons.
E-mail Jacquie with ideas, questions or to share your writing dreams. Follow Donne Tempo on Twitter and Facebook.
---
This article is the copyrighted property of the writer and Communities @ WashingtonTimes.com. Written permission must be obtained before reprint in online or print media. REPRINTING TWTC CONTENT WITHOUT PERMISSION AND/OR PAYMENT IS THEFT AND PUNISHABLE BY LAW.