LONGMONT, Colo. — Kansas U.S. Senate candidate Todd Tiahrt is using radio advertisements highlighting the support of national celebrities Sean Hannity, Sarah Palin and Dr. James Dobson in the critical last-days push to win primary votes. He's competing against fellow Republican congressman Jerry Moran in today's election.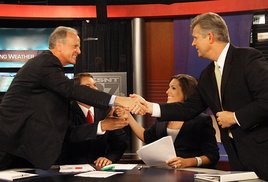 Republican Senate candidates Jerry Moran, left and Todd Tiahrt, right, shook hands after their first televised debate July 6 at the Topeka, Kan., NBC affiliate KSNT-27 studio. (Photo: Associated Press)
I was in western Kansas this past weekend when I heard his campaign's radio spot announced in a July 27 press release posted on his campaign website. Here is the text of Tiahrt's "Endorsed" ad.
MALE VOICE: The negative ads are so confusing, so I'm looking at who's backing Tiahrt, and who's with Moran.
FEMALE VOICE: You know someone by the company they keep?
MALE VOICE: Exactly.
FEMALE VOICE: Well, Tiahrt won over the Tea Party, Sean Hannity, Steve Forbes, and Sarah Palin.
MALE VOICE:.because he'll cut taxes and spending..has the record to back it up.
FEMALE VOICE: The NRA loves Tiahrt too. Got an A+ rating, their highest!
MALE VOICE: And the Kansas Rifle Association?
FEMALE VOICE: Tiahrt again.
MALE VOICE: I like the fact Tiahrt is pro-life, while Moran's campaign manager says Moran "winces" when someone calls him that.
FEMALE VOICE: That's why Kansans for Life and Dr. James Dobson are for Tiahrt, big time.
MALE VOICE: And all those opposed to amnesty for illegals. Tom Tancredo even withdrew his endorsement of Moran over that one.
FEMALE VOICE: So who's behind Moran?
MALE VOICE: Oh, the liberals in the media, his Washington buddies, and the liberal SEIU union.
FEMALE VOICE: Obama's favorite union.
MALE VOICE: Still confused on who to vote for in the U.S. Senate race?
FEMALE VOICE: Nope. I'm with Todd.
MALE VOICE: So am I.
I'm Todd Tiahrt, candidate for U.S. Senate, and I approve this message.

I was mildly surprised when I heard the ad. It's been nearly twenty-five years since I was active in Kansas Republican politics. Back then national celebrities were a non-factor in Kansas. But, I understand the times have changed. Indeed, Tip O'Neill's old adage that all politics is local is being turned on its head. These days, all politics is national.

What's different? Local news is disappearing. It's a lot harder to care about local news when there's little of it to read, hear or watch. Community newspapers are laying off reporters. Most community radio stations no longer bother producing news. They simply pipe in content from national syndicates. There was even a time that small towns such as Oberlin, Kan., had local television news. Now, cable news-entertainment captures a good share of viewer attention. The celebrities that dominate talk radio and cable news simply didn't exist a generation ago.

I know enough about how campaign messaging works that I'm confident Tiahrt's radio ads have been well tested in surveys and focus groups. I can't imagine a campaign supported by Karl Rove would air anything without convincing research that the ads will help move votes. That says to me the opinion gurus are convinced that national celebrities matter even in small towns in western Kansas.

I find the calculus from the perspective of a celebrity such as Hannity interesting, too. Hannity's livelihood relies on cultivating and maintaining a passionate audience for his radio and television shows. I can imagine he considers the ratings impact of every endorsement he makes. Does he care about Kansas and the interests of Kansas voters, or are endorsements a strategy to build audience market share? It's hard to know. His business creates a potential conflict of interest.

What else has changed? Electronic communications makes it possible for national organizations to promulgate issue research and talking points to politicians at all levels of government — from city council on up. It would not have been possible for the Tea Party or MoveOn.org to rise to prominence so quickly without social networking tools. National celebrities (perhaps the new incarnation of the political boss) use social-networking tools to build communities of interest (including candidates and elected officials) to promote and implement the ideas they espouse on their radio and TV shows and websites.

I don't know if the nationalization of politics is good for our democracy. But, the reality is that's what we've got. We're going to have to learn to make it work.
* * *
John Creighton writes on community life and public leadership at johncr8on.com. He can be found on Twitter @johncr8on and on Facebook.
---
This article is the copyrighted property of the writer and Communities @ WashingtonTimes.com. Written permission must be obtained before reprint in online or print media. REPRINTING TWTC CONTENT WITHOUT PERMISSION AND/OR PAYMENT IS THEFT AND PUNISHABLE BY LAW.