VIENNA, Va. — Don't look now, but it's already been more than 50 years — count 'em — since Rodgers' and Hammerstein's smash hit, The Sound of Music, debuted on Broadway in 1959. Better yet, you can still catch Wolf Trap's energetic revival of the show this weekend at the Filene Center, where it's playing through Sunday evening. It's loaded with popular songs that nearly everyone knows today — such as "Do-Re-Mi," "My Favorite Things," "Climb Ev'ry Mountain," "Edelweiss" and, of course, the title song.
The Sound of Music had a three-year run on Broadway before leaping to the silver screen in 1965 and making Julie Andrews an international star in her role as Maria. The original Broadway show copped eight Tony Awards, including awards for best musical and best score, while the film grabbed five Academy Awards. The latter is regarded today as perhaps the most popular film musical of all time.
Wolf Trap's production, made possible by collaboration with Atlanta's Theater of the Stars, assigns this starring role to winsome young Mandy Bruno. Burke Moses brings her great love, Baron Von Trapp, to vibrant life in this production.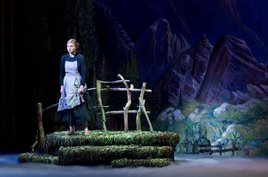 For the uninitiated, The Sound of Music is a lavish yet compact musical retelling of the trials and triumphs of the real-life von Trapp family of Salzburg, Austria. Having lost his first wife to scarlet fever, the seafaring Captain/Baron Georg Von Trapp tries to raise his seven young children by himself with little success. That is, until sprightly, musical Maria arrives fresh from the convent to serve as governess to his brood, turning the kids into an impressive family choir.
An orphan herself, Maria has tried to become a nun, but is too full of life to adapt to the strict regimen of a religious order. It's clear God has other things in mind as she and the much-older Captain fall in love and marry—just in time to confront the anschluss, or bloodless takeover of Austria by Nazi Germany. A passionate Austrian nationalist very much opposed to this cynical usurpation of power, the Captain, with the help of Maria, must save their brood from Hitler's terror—and music proves to be the ticket to their redemption.
The Von Trapps actually escaped to America somewhat less dramatically, eventually ending up in Vermont where the current generation still presides over the high-class ski chalet and lodge the family established in 1950 after cementing their fame as a globetrotting family choir. The Sound of Music is a streamlined and rather romanticized version of their earlier years in Austria before the march of history transformed them all into Americans. Except for Georg Von Trapp, that is. He died in the late 1940s, still holding on to his Austrian citizenship.
Even after all these years, the sheer number of fabulous music moments in this show simply boggles the mind, making this a musical evening that delights and entertains almost by default. Wolf Trap's production is notable for its enthusiastic cast of fine singers young and old, with many of the extras and minor players actually having been hired locally.
This production has an easy, family feel, almost as if it were unfolding in your living room. And yet the singer/actors make each of the show's often-idiosyncratic behaviors believable, sympathetic, and sometimes even lovable. Except for the Nazis, of course.
Mandy Bruno proves to be a sparklig, winning Maria. Visually, she seems a bit young, at first, for the part. But then again, the real Maria was not much over twenty years of age when she married Georg Von Trapp.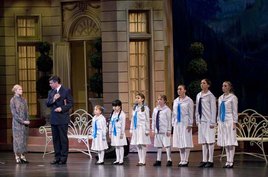 Bruno's sense of wide-eyed wonder proves a fine asset in this production as does her youthful but well supported soprano voice. In the early going of Act I, she added a few too many grace notes to her solo numbers, as is the moderately irritating custom of today's young pop chanteuses. But her delivery became steadier and stronger as the evening progressed.
As Maria's love interest, Captain Von Trapp, Burke Moses—and his superb, authoritative baritone instrument—proved the perfect match in this production, adding the right amount of age, experience, and gravitas to a show where Maria and the younger singers generally take center stage.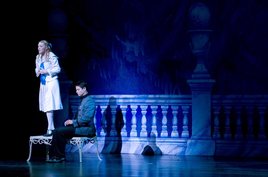 And those young singers who portrayed the precocious Von Trapp kids turned in a superb ensemble performance, including Noah Schnacky (Friedrich), Chandler Converse (Louisa), Chase McGrath (Kurt), Ginnie Lee House (Brigitta), Abby Goldberg (Marta), and Julianna Rigoglioso (Gretl). At the top of the list was young soprano Ephie Aardema, whose charming if headstrong portrayal of precocious teenaged daughter Liesl captured with near perfection the joys and pitfalls of blooming adolescence in her popular solo turn, "Sixteen Going on Seventeen."
A special hat tip to Jeanne Lehman, who portrayed the Mother Abbess, an authoritative character in her own right, but one who gets to sing the most inspiring song in the show, "Climb Ev'ry Mountain." Lehman turned in a superb performance in this small but key role, radiating compassion, authority, and ingenuity at every turn. Under the baton of Music Director John Visser, the orchestra played accurately and well, although the sound system didn't seem to allow much orchestral color to emerge.
Kenneth Foy's sets were economical but seemed appropriately lavish, and the amplified sound system sounded as close to natural as you're likely to get in a large outdoor amphitheater, save for the aforementioned mixing of the orchestra.
Interestingly, the only downside to Tuesday evening's opening performance was the sparse audience inside the Filene Center. You'd think that such an attractive show would sell more seats. And indeed, there were plenty of lawn patrons who thoroughly enjoyed themselves. But then again, it was a work night in workaholic Washington, DC. Hopefully, this production's hardworking cast and crew will fill the house during the rest of this run tonight, Saturday, and Sunday.
To catch one of the remaining performances, call (877) WOLFTRAP; or, locally, (703) 255-1868. Better yet, visit Wolf Trap online here.
Rating: *** (Three stars.)
---
This article is the copyrighted property of the writer and Communities @ WashingtonTimes.com. Written permission must be obtained before reprint in online or print media. REPRINTING TWTC CONTENT WITHOUT PERMISSION AND/OR PAYMENT IS THEFT AND PUNISHABLE BY LAW.