WASHINGTON — The Washington National Opera launched its budget-shortened 2010-2011 season last night with a decent new production of Giuseppe Verdi's Un Ballo in Maschera (A Masked Ball) at the Kennedy Center's Opera House. The singing, costuming and orchestral playing were generally good, but the production's five-and-dime sets left much to be desired.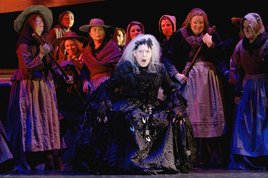 Un Ballo boasts one of the most convoluted premieres in 19th century opera history. Originally entitled "Gustavus III," its libretto was based on the assassination of the eponymous Swedish King (actually Gustav III) at a lavish court ball in 1792. But the opera ran into trouble with government censors when the composer attempted to stage it in 1858. If today's thin-skinned artists want to carp about (nonexistent) censorship, they should study Verdi's travails with this opera to gain some needed perspective.
With the continentwide revolutionary uprisings of 1848 still fresh in their minds, Italian authorities grew increasingly nervous about the upcoming Verdi opera's anti-royalist undertones. They threatened to ban it.
Holding his ground as always, Verdi refused to change the libretto but hit upon a politically expedient compromise with one official: He agreed to relocate the action of the opera to colonial Massachusetts. In this scheme, all the historically accurate character names were altered. King Gustav morphed into Riccardo the "Governor" of Boston. Conspirators Samuele and Tommaso were cast as African-Americans. Eventual co-conspirator Renato cast as a mulatto, and the sorceress, Mam'zelle Arvidson, originally a gypsy type, became Ulrica, a voodoo priestess. Close enough for government work. (Factoid: FWIW, Gustav's mother was Luisa Ulrica of Prussia.)
The show finally went on, and the opera eventually established itself in the repertoire. But until fairly recently, most productions Un Bello insisted on retaining the characters' moderately ludicrous Italian-American names and early American setting. WNO's current production reverts to Verdi's original character names, which actually makes its plot and characterizations seem more authentic. (WNO's only nomenclature slip-up: originally named Mam'zelle Arvidson, the sorceress is still referred to as Ulrica in this production's surtitles.)
Plot and censorship nonsense aside, the primary reason Un Ballo remains popular today is Verdi's richly Romantic score. The composer was well into his middle period here. The music for this opera is provocative, inventive, somewhat Germanic (as befits its original northern European setting), and always ravishingly beautiful. It's everything that made and continues to make 19th century Italian opera the gold standard in musical theater, at least in the minds of many opera aficionados.
Dramatically, the opera is a study in contrasts. The character of King Gustavus III (formerly Riccardo) in particular is rich and complex. He is a modern ruler generally popular with his people (except for the conspirators). He is also playful and fun-loving, a bit like an 18th century Swedish Bill Clinton who fools around on the side but can still feel everyone's pain. Even the still-platonic affair with Amelia that leads to his demise is pure in its own way, halted by Gustavus. He regains his self-control to remove temptation before its consummation out of his respect for Count Anckarström (Renato), his closest friend and Amelia's husband.
As Gustavus, Salvatore Licitra turned in a robust and almost boyish performance Saturday evening, uncannily capturing the essence of this role. His substantial tenor voice was not always under complete control this opening night performance. But somehow, this seemed to match Gustavus' impulsive character and it was thus quite easy to overlook and forgive.
As the King's pal and eventual nemesis Count Anckarström, baritone Luca Salsi must wait until the third act to fulfill his character's dramatic and vocal destiny. Though at times barely audible in the early part of the opera, Salsi's supple instrument seemed to gain in force and authority as the opera progressed. Saturday evening, the Count's savage condemnation of Amelia hit all the right musical and dramatic notes, convincingly justifying his conversion to the dark side – something that's quite abrupt in the libretto's treatment.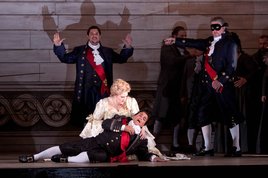 In one of the evening's vocal high points, Salsi's Count vigorously confirmed his intentions toward Gustavus in a powerful trio with co-conspirators Count Ribbing (Samuele) and Count Horn (Tommaso), as ably portrayed by basses Kenneth Kellogg and Julien Robbins. (The latter also sang the same role in WNO's previous Un Ballo in 2002.)
The ladies don't get quite as much to do as the men in this opera. As the beleaguered Amelia, soprano Tamara Wilson was quite good. Her plummy, surprisingly athletic voice more than held its own against a dominating male cast. Her emotional, at times almost furtive duet with Salvatore Licitra's Gustavus in this production's middle stanza was perhaps its most magical musical moment.
The mysterious gypsy fortuneteller, Mam'zelle Arvidson (still the old style Ulrica if you glanced at the surtitles), appears in only one scene in this opera. But that appearance is central. Mezzo-soprano Elena Manistina took it one step further, morphing it into a virtual opera within an opera Saturday evening as she transformed the prophetess, visually and vocally, into an outrageously attired, fright-wigged Sybil.
Manistina convincingly set the tragedy on its way with her otherworldly, almost guttural vocal delivery, one of the braver performances we've seen in recent years. It's a mystery, though, why director James Robinson has villains Ribbing and Horn dispatch her with a Special Forces/Chuck Norris style neck-breaker as the curtain falls on the scene.
In the lightly comic trouser role of Gustavus' youthful page Oscar, soprano Micaëla Oeste was a bit much. Capering around the stage like a hyperactive child who needs a nap, Oeste's performance seemed at odds with the modest seriousness of this production. It was almost as if Mozart's antic Cherubino had wandered into the wrong opera by mistake. It's probably less her fault, though, than that of the director, one of several odd choices that at times blunted the opera's dramatic edge.
Conductor Daniele Callegari directed his vocal and instrumental forces with great attention to detail, producing a lustrous orchestral backdrop for the singers. With the exception of the early going, that is, when the sound from the pit overwhelmed the vocalists. In addition, as is often the case on opening night, orchestra and chorus got out of synch on several occasions, something for which the conductor, rightly or wrongly, always gets the blame. Fortunately, this is something that's usually remedied in successive performances. And indeed, things had improved considerably by the final act on Saturday evening.
Low points of the production: directorial choices, including weird blocking in the crowd scenes; an unfortunate tendency to place delicate voices – in particular Micaëla Oeste's – so far back on the stage that they became inaudible part of the time; Oscar's ADHD behavior; and Allen Moyer's lame, rather tawdry-looking sets.
While their cardboardy cheapness actually worked when reconfigured for the opera's prophecy scene, this production recalled the well-worn, charmless scenery employed in WNO's production of Mozart's rarely seen La Finta Giardiniara (roughly, The Girl Disguised as a Gardener) back in the 1990s. As the backstage lighting shone through the chinks of the walls in the first act, the interior of the King's palace oddly recalled Verdi's forced relocation of the opera to rude colonial Massachusetts rather than the more civilized seat of Swedish royalty.
Perhaps the use of these sets is a reflection on this company's current budgetary issues. If so, they can be forgiven to a point. As we've already stated, the singing was good, the orchestra was in top form, and the characters were generally well cast. Musically, there's little to quibble about here except for what's already been duly noted.
But WNO needs to do something to transform itself back into the national force that even a season or two ago it was promising to become. Our nation's capital city deserves no less. But it's not yet clear who's going to step up to the plate with the money and the passion to make that happen.
Note: As is often the case in WNO productions, alternate cast members will play key roles during certain performances. On September 16 and 20, John Marcus Bindel will sing the role of Count Horn; Monica Yunus will sing Oscar; Frank Porretta will handle the role of King Gustavus III; Timothy Mix will sing Count Anckarström; and Susan Neves will portray Amelia.
Rating: ** (Two stars out of four.)
To attend a performance: Un Ballo in Maschera Continues through September 25 at the Kennedy Center Opera House. For tickets, info, and sound clips, link to WNO's website here. Budget opera lovers, don't forget: There's a free performance of Un Ballo in Maschera next Sunday afternoon, September 19, simulcast live in HD from the KenCen to the jumbo screens in Washington Nationals' Stadium. Seating in the infield is free. So is reserved stadium seating, but you'll need to get a free ticket for that. For more details, check out this event's webpage here.
---
This article is the copyrighted property of the writer and Communities @ WashingtonTimes.com. Written permission must be obtained before reprint in online or print media. REPRINTING TWTC CONTENT WITHOUT PERMISSION AND/OR PAYMENT IS THEFT AND PUNISHABLE BY LAW.