Washington, DC—The Mariinsky Opera and Orchestra wrapped up its 10-day stay in our nation's capital with two impressive performance of Sergei Prokofiev's massive War and Peace at the Kennedy Center Opera House. This was a hot ticket, one of those "must-see" operatic events like a complete Ring Cycle with legendary singers, or like the Washington National Opera spectacular revival of the Geneva-San Francisco Opera production of Boito's Mefistofele with Samuel Ramey in the mid-1990s.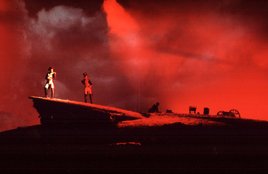 So was War and Peace worth all the pre-performance buzz, the anticipation, and the wait? Sure, for the most part. Saturday evening's opening night performance was loaded with all the dazzle, opulence, and special effects that opera goers long for but often don't get in this era of budget cuts and reduced ambitions.
Background
Based on a goodly portion of Leo Tolstoy's eponymous, sprawling, epic novel, Prokofiev's War and Peace was a long time in the making. The libretto, the opera's scaffolding as it were, was brilliantly crafted by the composer in collaboration with young poet Mira Mendelson, who eventually became his second wife (a complicated issue). They simplified the novel's complex plot into easily digestible, bite-sized pieces, focusing Act I on the family sagas and Act II on the characters' wartime experience.
The composer worked on the opera from the outset of the Second World War. He continued to tinker with it after the war in the hope of getting a full version produced. That never really happened.
Part of Prokofiev's problem with the opera was due to the sheer difficulty of completing a major work of art in a brutal wartime environment. But a worse issue was the one he shared with Dmitri Shostakovich and other brilliant Soviet era composers: the extreme political correctness of Josef Stalin's murderous dictatorship. The old-line Soviets simply couldn't abide "decadent" modernist (aka "formalist") music, particularly if it didn't glorify the Soviet system. And composers and their families were often in very real danger if they didn't knuckle under.
Prokofiev, like Shostakovich, was constantly in the crosshairs of government censors. Prokofiev continually tweaked and revised his score, ultimately adding, under obvious duress, chunks of stirring, martial propaganda to his musical mix to get his epic past the censors and onto the stage.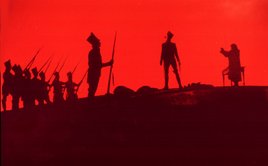 The end product of genius and chaos, Prokofiev's War and Peace is ultimately a long, brilliant, yet somewhat flawed masterpiece, due not by the composer's musical miscalculations, but by his necessity to survive in an oppressive, dangerous political system. His "final cut" as it were is cinematic in its scope and historical sweep, not unexpected in the work of a composer who'd written for Russian film before, including a musical score for Serge Eisenstein's great 1938 film, "Alexander Nevsky."
Prokofiev died in 1953—ironically, on the same day as his nemesis, Josef Stalin, whose censors had thwarted the staging of the composer's opera for years. A full performance had to wait until 1957, when it was finally produced by NBC for the American television audience. (Sadly, that's something NBC would never chance today.) The opera's first complete stage performance was mounted at Moscow's Bolshoi Theatre in 1959.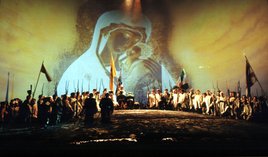 The music
War and Peace is loaded with great, powerful, romantic music, including an occasional passage that seems to have been snipped by the composer from his earlier, often less controversial works. As for that music he was effectively forced to write? With the passage of time, Prokofiev's musical propaganda—most of which occurs in this opera's second act—actually doesn't sound too overwrought, much to my surprise. And there's not a massive quantity of it anyway.
It also occurred to me while I was listening to these passages that those who didn't grow up in the United States practicing "duck and cover" drills in their grade school classrooms may not fully understand just how tense the international political scene was the 1940s and 1950s. Such listeners might even regard the opera's martial stuff as faintly ridiculous—an interesting possibility after all these years of controversy.
Despite all its issues and problems, Prokofiev's War and Peace, while running a very long 4+ hours, including intermission, boasts a surprisingly tight plot and some of the composer's most inspired musical moments. Written in his patented spiky-yet-romantic style, it's a compelling family saga that's ultimately derailed by Napoleon's invasion of Russia. Anyone who gets the film version of "Gone With the Wind" will easily grasp Prokofiev's story arc.
The Mariinsky production
This production's massive sets, sent via sea in a container vessel from Russia, were transported to the KenCen in nearly 20 trailer loads I'm informed. One erected on stage, these sets proved to be efficient, well engineered, and quite effective—all 30 tons of them. Their imaginative design put a modernist spin on an otherwise nicely traditional costume drama, with perhaps a touch of architectural constructivism thrown in for old times' sake.
The production's massive central turntable/dome functioned silently and flawlessly, its surface morphing ingeniously from scene to scene. Kudos for excellent engineering and design.
After the initial shock of seeing them, the translucent, illuminated pillars that dropped down during the Act I ballroom scene also looked pretty cool. A bonus hat tip is also in order for the weirdly illuminated vision of Moscow and the Kremlin that shimmered behind the rear curtain in Act II. On the whole, it resembled an oddly stylized urban background from Fritz Lang's classic silent film "Metropolis," magically transported via time travel or Buck Rogers' rocketshi to our own century.
On the scenic downside, the flying battle flags in Act 2's opening tableau, flapping madly and heroically in fan-generated gusts, were a little too much "socialist realism" for this writer. On the other hand, in this post-Soviet age, it's entirely possible our Russian friends were poking a bit of fun at their own recent background with this imagery. So maybe we should let the flags and proletarian heroes pass without further comment.
As for Saturday's performance, I'm not sure it could have been better. The orchestra, under Valery Gergiev, was absolutely at the top of its game, playing with full, symphonic splendor and giving Prokofiev's brilliantly and sometimes brutally colorful music the masterful treatment it's always deserved.
The company's singing was generally fine as well, although perhaps a step behind the orchestra in terms of quality. I believe this had less to do with the talent of the vocalists, however, than it did with their grueling schedules over the past 10 days.
The human voice, even when highly trained, has its limits. Called upon to sing night after night, one suspects that a few of the soloists were plumb tuckered out and unable to muster the heft to soar over Prokofiev's massive, post-Wagnerian orchestral forces. That said, they did a decent job anyway. Ditto for the chorus.
The soloists/characters certainly deserve an extra curtain call here, although dealing with all of them might take up several pages. There are actually a phenomenal 63 individual vocal parts in this opera (plus chorus), although some smaller roles were sung in this production by one soloist in a different costume.
Petite young soprano Irina Mataeva and her silvery voice embodied the flighty Natasha, the primary character in Act I. A winsome naïf who's too easily wood by the amoral Anatol (wickedly sung by tenor Sergei Skorokhodov), Natasha ruins her reputation and her chance for happiness with the stalwart and honorable Prince Andrei, the closest thing this opera has to a genuine tragic hero.
As Andrei, baritone Alexey Markov was perhaps the most satisfying voice in the ensemble, strong and convincing despite this long performance week. As the opera's intellectual center, Count Pierre Bezhukhov, tenor Alexei Steblianko was nearly as good, at least at the outset, although his voice showed increasing strain as the evening progressed.
Bass Gennady Bezzubenkov was persuasive as the wily and ultimately victorious Field Marshall Kutuzov, although he was often inaudible against the large orchestral forces, perhaps due to his placement too far back on the stage.
Mezzo Ekaterina Semenchuk, who was notable in Wednesday's evening's Prince Igor excerpt, had a lighter role here as the scheming Helene Bezukhova. She made the most of it, fluttering coquettishly and encouraging the dissolute Anatol to pursue his conquest of the nearly-married Natasha.
Baritone Alexander Nikitin was impressive in the modest but pivotal role of Napoleon Bonaparte in Act II, projecting self-assurance in victory as well as in looming defeat.
Finally, bass Mikhail Petrenko nearly stole the first act in his refreshingly comic turn as Prince Andrei's cranky old man, Prince Nikolai, who ships his son abroad to thwart his impending marriage to Natasha.
Ultimately, the Mariinksy's War and Peace proved to be the genuinely epic production everyone expected, despite the occasional glitch. It was a possibly once-in-a-lifetime opportunity to see and hear the monumental achievement of one of Russia's greatest composers ever. Those fortunate enough to have been there will long remember it.
Postscript: Reputedly, it took roughly $2M to mount this extravagant production. A curtain call for the Catherine B. Reynolds Foundation Series for Artistic Excellence for helping to make it happen.
Rating: **** (Four Stars, highest rating.)
---
This article is the copyrighted property of the writer and Communities @ WashingtonTimes.com. Written permission must be obtained before reprint in online or print media. REPRINTING TWTC CONTENT WITHOUT PERMISSION AND/OR PAYMENT IS THEFT AND PUNISHABLE BY LAW.