Washington, DC—The Mariinksy Opera and orchestra continued its visit to the nation's capital this week with a back-to-back pair of opera excerpts in concert Wednesday and Thursday evenings at the Kennedy Center's Opera House. As an extra-added attraction, the Thursday edition featured an all-too-brief appearance by glamorous superstar soprano Anna Netrebko.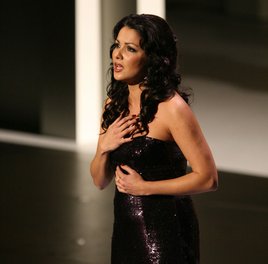 Wednesday evening's offerings included the overture to Rimsky-Korsakov's
Maid of Pskov
(aka
Ivan the Terrible
) and a scene from his
Legend of the Invisible City of Kitezh and the Maiden Fevroniya
; a scene from Mussorgsky's
Khovanshchina
; and the stirring second act of Borodin's
Prince Igor
.
On tap Thursday evening were Tchaikovsky opera highlights including the love duet and execution scene from Mazeppa; a pastoral interlude from The Queen of Spades (known also as Pique Dame); and the heartbreaking love duet from Iolanta.
Performing opera scenes can be an iffy thing in concert. Lacking context, it's sometimes difficult for audiences to get in the mood of each particular setting. But the generally fine singing and instrumental work both evenings, plus English surtitles that functioned more smoothly than during last Sunday's concert performance of Boris Godunov, created some magical moments during Wednesday and Thursday's concerts.
While we've seen performances of Khovanshchina, Mazeppa, and Queen of Spades at the Kennedy Center before, courtesy either of the Mariinksy or the Washington National Opera, I can't recall ever hearing a note here from Maid of Pskov or The Legend of the Invisible City of Kitezh and the Maiden Fevroniya. (Hereafter Invisible City—who was responsible for this tongue-twister of a title, anyway?)
On Wednesday's program, the Overture from Maid was interesting and occasionally exciting, giving the orchestra a chance to shine on its own under the direction of the company's artistic and general director Valery Gergiev.
The opera itself revolves around Ivan the Terrible's vow to destroy the city of Pskov for rising up against him—until he discovers that his long-lost illegitimate daughter is in residence there. Hence the contrasting themes in the overture, pitting domestic concerns against martial threats. It was crisply performed by the orchestra and provided an excellent lead-in to the remaining works.
The field of battle was again front and center in the excerpt (Act 3, Scene 1) from Invisible City. Fyodor Poyarok (ably sung by Edem Umerov), blinded by the attacking Tartars, warns his Prince and people of their savagery while a young boy (sung by Zlata Bulycheva) warns of their approach.
The Prince (Evgeny Akimov), who knows that his betrothed, Fevroniya, is in the clutches of the Tartars, leads his soldiers into battle while the people (represented by the fine Mariinsky chorus) pray to the Virgin to save them—unaware that Fevroniya's prayers have probably gotten to heaven first. Suddenly, the city is enshrouded in a miraculous, golden fog—represented by a shimmering orchestral interlude—and rendered invisible to the attacking enemy.
After a brief scene from Khovanshchina, in which Prince Ivan Khovansky tries to convince his men, the roistering Strelsky, to cease fighting a losing battle against Tsar Peter, Wednesday evening concluded with a rousing performance of Act 2 from Borodin's Prince Igor.
Among other musical highlights, Act 2 features the famous Polovtsian Dances, a popular staple of symphony orchestra programs on this side of the Atlantic for years. (One of these, the familiar slow dance of the slave girls, sung by the female members of the chorus, was later stolen wholesale and re-deployed as "Stranger in Paradise" in the Broadway musical Kismet.) Hearing the rest of this act, along with the full choral version of the dances, was an added bonus. (For a somewhat weird animé video of the suite's initial choral dance, click here.)
Mikhail Kit (apparently substituted for Evgeny Nikitin) as a sorrowful Igor and Mikhail Petrenko as a boisterously triumphant Khan were the dramatic focal point of the Act. Igor is depressed at his surprising capture and defeat, while Khan, delighted with this outcome, wants to show his "guest" a good time and maybe cut a deal, too. (Hence, the highly entertaining dances.)
But the Act's emotional highlight, at least among the soloists, was the love duet between young couple Vladimir (Sergey Semishkur) and Konchakovna (Ekaterina Semenchuk). Mr. Semishkur proved to be an effective romantic tenor. But the duet was transformed into a memorable moment by the deeply burnished voice of Ms. Semenchuk. I suppose that you'd call Ms. Semenchuk a mezzo-soprano. But goodness, what low notes she was able to produce, seemingly without significant effort.
Tenor-soprano and tenor-mezzo duets are a staple in the world of opera. But what makes this one special is a musical role reversal. It's usually the tenor who accompanies the female singer with harmony and counterpoint. In this duet, it was the other way around. The result is a rare and exquisite musical moment that was close to perfection in this performance, due in large part to the sensitivity of these fine singers.
The dances themselves were viscerally entertaining beyond the usual, thanks to the presence of the chorus, which was clearly familiar with the material. Maestro Gergiev set some rather brisk tempos here, particularly in the whirling-dervish finale, and things got a little out of control. However, in the excitement of the moment, no one in the auditorium seemed to care.
Thursday evening's offerings featured an irregular batch of excerpts from Tchaikovsky's operas. The first half of the evening involved a substantial portion of Act II from the Russian master's interesting opera, Mazeppa, a tale of romance and intrigue in the Ukraine during the time of Peter the Great.
Excerpts included the tormented love duet between Mazeppa (Edem Umerov) and his innocent young wife, Maria (Victoria Yastrebova). She later learns that her husband has determined to put her father, Kotschubey (Michael Kit) to death. But she arrives too late at the execution scene to turn the tide. The roles were well sung, including the choral commentary, and Tchaikovsky's martial execution music was an exciting way to conclude the concert's first half.
After the intermission, the orchestra, choral forces and singers returned to perform excerpts from The Queen of Spades and Iolanta. The program promised the entire Act II ballroom scene from Queen of Spades. But what was performed instead was a short, Mozartian interlude. It's a tiny piece of this sweeping act, a bucolic tableau—a play within a play—that's mounted to entertain the guests. It's a nice set piece. But it's uncharacteristic of the opera as a whole, and the wrong singers were listed in the program.
More effective was the concluding excerpt from Tchaikovsky's odd one-act opera, Iolanta. The plotline involves the eponymous young princess who's been blind from birth. However, she really has no clue that this is an affliction since her father has never told her about the existence of light, and has forbidden anyone in the court to communicate this to her. A young knight enters the scene and spills the beans to Iolanta. Complications ensue.
Brightening this performance was the all-too-brief appearance of star soprano Anna Netrebko as Iolanta. She was supported by strong performances by Alexey Markov as Robert, initially her betrothed, and Sergey Skorokhodov as Count Vaudemont, Robert's friend who eventually falls in love with her and reveals the forbidden secret.
Iolanta was perhaps not the showiest way to feature Miss Netrebko's beautifully sculpted instrument. But the music is lovely, full of wonderment, vulnerability, and tender affection, all of which Ms. Netrebko projected superbly. It was a shame to see so little of her on Thursday evening, yet a bonus to hear her at all.
The scene was rounded out by equally fine performances from Mr. Skorokhodov and Mr. Markov.
To wrap things up: both Wednesday and Thursday evening's concert opera programs had many fine moments, a few clunkers, and a few last-minute discords with the program notes. But on the whole, the music was eminently enjoyable.
Sidebar: Some auditors, including this one, are occasionally vexed by the moments of real sloppiness in this ensemble, particularly during passages played and sung at breakneck speed and volume. However, it occurs to me that there may be a reason for this phenomenon.
As an older Boomer, I had the good fortune in my younger days to attend countless Cleveland Orchestra concerts that featured the great romantic artists of that day late in their careers. These included pianists such as Artur Rubenstein, Gina Bachauer, Emil Gilels, Byron Janis, and Robert and Gaby Casadesus.
A hallmark of these artists was the flat-out excitement of their playing. However, such hair-raising, thrilling performances often came at a price. At times, these artists—particularly the pianists—would drop bucketloads of notes as they ripped up and down the keyboard with grand flourishes. Pianists would be, and are, roundly criticized today when they do this.
But tastes differ. Russian musical preferences in my experience, tend to skew back a bit in time toward the romantic era. The Mariinsky, as a performance company, is no exception. When there's a choice to be made between emotion and technical correctness, they'll choose emotion every time. When the choice is between gut-wrenching thrills and musical finesse, they'll go for the thrills. Rather than dazzle you with technical brilliance, they'll tear at your heartstrings and sometimes your heart itself.
This approach, I suppose, is no longer fashionable in the West as it was when I was a youngster. But in the end, it's a matter of context and personal choice. While I'm positively awed by the skill sets of today's younger artists, I still remember with fondness those thrilling days of yesteryear when soloists and ensembles could sweep you out of your seat and into another world without fussing too much about picky details like the score.
That's still what the Mariinksy company delivers—a "damn the torpedoes, full speed ahead" approach. It will continue to confound academics and critics. But it's usually as entertaining as heck and no doubt keeps those ticket sales humming, particularly in Mother Russia.
Rating for both evenings: ** to *** (Two to three stars, depending on the excerpt. Your mileage may vary.)
Next on tap: Prokofiev's epic War and Peace, all four hours of it. Final performance is today (Sunday) and you may have to scalp a ticket if you want to get in. (The KenCen website lists it as Sold Out as of this writing.) We'll report the details on Monday.
---
This article is the copyrighted property of the writer and Communities @ WashingtonTimes.com. Written permission must be obtained before reprint in online or print media. REPRINTING TWTC CONTENT WITHOUT PERMISSION AND/OR PAYMENT IS THEFT AND PUNISHABLE BY LAW.