Vienna, Virginia — The Wolf Trap Opera Company opened its 2010 season last Friday evening with a new production of an attractive novelty—Mozart's unfinished opera Zaide—at the Barns. A youthful work loaded with lovely music, Zaide foreshadows Mozart's later success with his popular, similarly-themed singspiel, Die Entführung aus dem Serail (The Abduction from the Seraglio).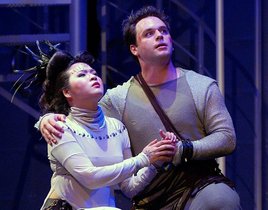 The Wolf Trap Opera adds to the curiosity factor of this production by taking a page out of the Kennedy Center's never-ending moneymaker, Shear Madness, a whodunit murder mystery whose special guest murderer is chosen each night by the audience. Since Mozart never completed Zaide (pronounced "zuh-EE-duh"), Wolf Trap audiences likewise get to vote for one of three possible endings at intermission. The ballot-box winner each night is the finale that actually gets performed.
For a company that's made a tradition out of innovating with a small budget, this production of Zaide should have been a slam dunk. I regret to say it could very well be the worst production this company has ever staged.
The problem here is not with the singing. That's generally quite good. It's not with the orchestra. The players performed with sensitivity throughout under the baton of Gary Thor Wedow. And it's not with the cool, weird sets of Ehrhard Rom or with the bizarrely evocative costumes designed by Mattie Ullrich.
No, the real problem is the ham-handed vision of director James Marvel. It's a major miscalculation—the worst directorial concept for an opera, by an order of magnitude, that I have ever had the misfortune to witness.
Like Entführung, Zaide focuses on the captivity and slavery of the beautiful Zaide (soprano Hana Park) and her admirer and would-be lover Gomatz (tenor Paul Appleby). Europeans captured and enslaved by the brutish Turkish sultan Soliman (tenor Nathaniel Peake), they attempt to escape with the aid of a trusted fellow slave, Allazim (baritone Daniel Billings). But their attempt fails miserably. The trio is recaptured by the menacing slave dealer Osmin (bass Michael Sumuel). And it looks like curtains for our heroes as Soliman vows to extract his painful, final revenge.
But at this point, Mozart put down his pen, having obtained a real paying commission to compose something. He'd been writing Zaide only on spec at the time and never revisited the opera again. So we'll never really know his final intent.
Since Zaide had been based on known source material, however, Wolf Trap easily conjured up three logically possible conclusions for the audience to vote on in this novel new production. Each involves the interpolation of music written by Mozart either here or elsewhere rather than resorting to new, contemporary material. (Thursday's audience picked the "ambivalent" finale.)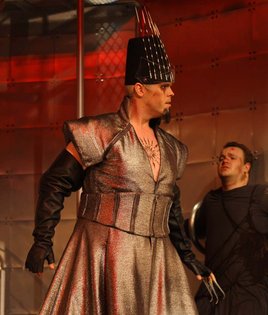 To jazz things a bit—since Zaide has very little performance history to speak of—Erhard Rom created a set that seems to relocate Mozart's characters to an alien planet. It's a retro control room of sorts, with a steel prison to the audience's left and a video control room on the right, fed by onstage cameras that follow every move of Soliman's unfortunate slaves. They get zapped (or tased) by ray-guns, beaten by overseers and space aliens, or electrocuted when all else fails.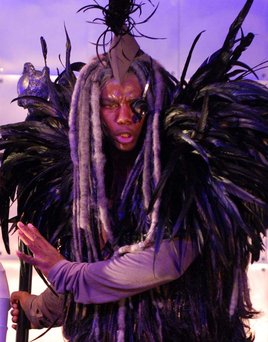 The intentional otherworldliness of this production is made stranger still by the eclectic costuming. The male slaves, with the exception of the trusted Allazim, are clad in stylized rags. On the other hand, both Allazim and Zaide—much favored by the sultan—are resplendent in lavish plumage, with our heroine garbed in a kind of post-punk/goth underlayment just to make things interesting. Meanwhile, Allazim sports a small magnifying device attached to his left eye, reminiscent of Next Generation Star Trek Captain Jean Luc Picard's similar eye candy, installed when he was forced to become part of the Borg hive. (As with the Borg, it would appear that resistance to the sultan is futile.)
Meanwhile, slave dealer and part-time overseer Osmin is clad in a flowing chasuble, somewhat like an ancient Egyptian priest. And Sultan Soliman, the brains of the outfit, is decked out in metallic robes with his head topped by an ominously tall and menacing fez. As if we weren't already certain he was evil, he brandishes Nosferatu-like claws on one hand, all the better to slice and dice the faces of his slaves.
Taken as a whole, the staging and costuming is an odd amalgam of the original "Star Trek" TV series; the bizarre, ostrich-plumed costuming of the Washington National Opera's enjoyable but unintentionally laughable mid-1990s production of Carlos Gomes' Il Guarany; and the control room set of Wolf Trap's own recent "Kinsey Institute" version of Mozart's Cosi fan tutte. This is all fun to a point. But the cacophony of possible references starts interfering with the opera itself. And it doesn't end here.
The production add a few armless, worm like creatures to oversee and intimidate the slaves. These silent mutants may remind Grade-B horror film fans of 1950s potboilers like "The Attack of the Giant Leeches." Or possibly the relatively more recent "Lair of the White Worm" which featured Hugh Grant before he became really famous. Or maybe the Michelin Man after he enrolled in Weight Watchers. In any event, these creatures make the proceedings stranger still. But everything operatic doesn't have to be strictly traditional, right?
Unfortunately, it's at this point that director James Marvel chooses to exceed the bounds of good taste. Building upon the opera's focus on slavery and captivity in a foreign land, he takes what is thus far a sci-fi, multimedia retreading of Zaide and essentially ruins it by adding layer upon layer of gratuitous, unrelenting violence. As a result, a production that could have been thoughtful, wryly amusing, and even fun winds up completely distracting the audience from the charms of Mozart's youthful score.
Case in point: since the unfinished opera didn't have its own overture, the company chose to use the first movement of Mozart's own 25th Symphony in G-minor as a curtain raiser. Many listeners will remember this aggressively minor-key movement as the opening music in the film version of Amadeus that serves to introduce us to a guilt-ridden and suicidal Salieri.
But here, the music serves as the soundtrack for Marvel's gruesome opening pantomime of sadistic violence as perpetrated by Osmin, Soliman, and the conqueror worms. Slaves are mercilessly kicked, punched, whipped, and apparently tased. Their screams of agony punctuate the pulsating rhythm of Mozart's dramatic music.
At this point, we clearly get the picture. Slavery under Soliman is no picnic. But just in case the anti-slavery message has gone over our heads, the violence continues almost without respite during the entire performance. If at this juncture we still don't understand that slavery is really, really, really bad, decidedly undignified, and probably hazardous to our health, Marvel jumps the shark. He has Soliman waterboard the hapless Gomatz prior to the final ensemble (at least in the ending the audience chose Friday evening)—perhaps to remind us once again that Abu Ghraib, like the BP oil disaster, was Bush's fault. There seems to be no other plausible explanation for this. However, I'm not sure it has anything to do with Mozart.
You'll note at this point that I've scarcely mentioned Zaide's talented young singers. But there's a reason for that. When an opera production's directorial concept entirely overshadows music and character—what the audience actually comes to hear and see—it's the fault of a director himself for placing his own importance above that of the composer and librettist as well as the performers. In my opinion, at least, both the stage director and the conductor for that matter are in service to the singers, the composer, and his music, not the other way around. Not so in this production. We leave this Zaide remembering only the stage violence and the endless misery of its hapless characters, not the music or the singing. It's an astonishing directorial lapse of judgment.
Oh, yes, the singers. As I mentioned, they're really quite good. But I sensed that at least some of them were uncomfortable with what they were doing onstage. This may have led to some moments of vocal tentativeness, the kind of collateral damage that misguided direction can cause.
Nathaniel Peake was good if a bit upsetting as the villainous Soliman, displaying a fine, strong instrument capable of great expression. But at times, the sheer strenuousness of his violent actions seemed to make him short of breath which interfered with his phrasing. Ditto Paul Appleby, a admirably sensitive lyric tenor who also happens to be everyone's designated victim in this show.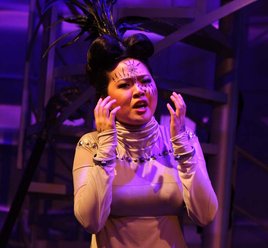 The nasty atmosphere of this production also seemed to affect the vocal production of Hana Park's Zaide on occasion. Ms. Park has a clean, decisive soprano voice that clearly will carry her promising career forward. Yet she seemed uncomfortable at times like the others. A notable and welcome exception was her lustrous performance of "Ruhe sanft, mein holdes Leben!" ("Gently rest, my dearest love!"). It's one of Mozart's least-known vocal gems and a major reason why Wolf Trap Opera Director Kim Pensinger Whitman was eager to stage this opera. Ms. Park's exquisite performance of this wonderful aria was a welcome oasis amidst the ongoing squalls of violence.
Daniel Billings sang the complex role of Allazim with a Zen-like dignity. And in the small, ungracious role of Osmin, Michael Sumuel displayed an elegant, well-rounded, forceful bass voice that should win him many future plaudits.
If you're a Mozart fan in search of something almost entirely new, do grit your teeth and attend one of the remaining productions of Zaide this week. No manner of unpleasantry can entirely erase this composer's genius, even in an obscure work that never saw the light of day in his own lifetime. The music and the singing will prove rewarding even if this production is not.
But if you're uncomfortable with even the brief torture scene in Puccini's Tosca you might want to take a pass. The incongruous nastiness of this production is simply not in keeping with the spirit of Wolfgang Amadeus Mozart, perhaps the most forgiving of all composers.
Rating: 0 (no stars) for direction; ** ½ (two and one-half stars) for singing.
Remaining performances of Zaide: June 15 at 8pm and June 19 at 7:30pm. For tickets and information, visit the Wolf Trap Opera website.
---
This article is the copyrighted property of the writer and Communities @ WashingtonTimes.com. Written permission must be obtained before reprint in online or print media. REPRINTING TWTC CONTENT WITHOUT PERMISSION AND/OR PAYMENT IS THEFT AND PUNISHABLE BY LAW.