You wouldn't know it from looking outside. But spring has already sprung for the performing arts in DC and its environs.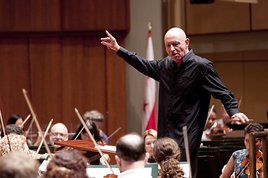 Believe it or not, the first half of our lively arts season is already over. Now, after the traditional holiday hiatus, performance venues across town are awakening once again, bringing to life a spring stanza whose highlights range from unusual events to exciting new personalities.
In the unusual events department, DC's eclectic In Series will bring us WAM!, a highly original Mozart extravaganza featuring music, poetry, and dance.
Meanwhile, down at the Kennedy Center, the National Symphony Orchestra is anticipating the arrival of new Maestro Christoph Eschenbach. He'll guest conduct here a bit later this season before officially assuming the NSO helm this September.
The Washington National Opera will launch the second half of its own 2009-2010 season in March with a performance of George Gershwin's ever-popular folk opera "Porgy and Bess." They formally announced their somewhat abbreviated 2010-2011 season earlier this week. We'll have details here shortly.
Speaking of new seasons, this brief column marks my virtual return to the pages of the Washington Times after a month-long absence. After penning features, reviews, and the occasional scurrilous opinion piece for the paper's newsprint edition since 1994, I'm now making the move online. As they say on Wall Street, the trend is your friend.
It may take classical fans a little while to discover this new locale. But I think it's well worth the move. A big plus: I'll now have the opportunity to cover the many interesting but smaller troupes and avant-garde ensembles I was unable to cover in the newsstand version.
Meanwhile, it's great to be back in action again. Let's plan on enjoying the rest of this season together.
---
This article is the copyrighted property of the writer and Communities @ WashingtonTimes.com. Written permission must be obtained before reprint in online or print media. REPRINTING TWTC CONTENT WITHOUT PERMISSION AND/OR PAYMENT IS THEFT AND PUNISHABLE BY LAW.