Fairfax, VA—The Moscow State Radio Symphony Orchestra, a relatively new ensemble founded in the 1970s, does yeoman like work in the former Soviet Union. Primarily designed as a studio orchestra, they broadcast the classical repertoire across the vast continental stretch of Russia, bringing national and international musical culture and history to audiences that might otherwise rarely encounter it.
No longer able to rely exclusively on the generosity of the government, the orchestra goes on tour from time to time to make a few extra rubles. It arrived here last weekend for an intriguing one-night stand at George Mason University's Center for the Arts, tempting area classical music fans to emerge from their collective ice-cocoons.
Their reward—a program of heavy-duty Russian music balancing a pair of popular favorites with two lesser-known works of considerable merit. Also on tap were two fine young soloists, pianist Alexander Sinchuk and cellist Julian Schwarz.
So far, so good. But the problem with the whole evening was this: this orchestral ensemble could have used at least ten, maybe twenty more strings, while the brass players needed to take the proceedings a bit more seriously than they did.
Maybe the orchestra's budget simply can't handle the additional players. And perhaps the brass section was getting winded by the ensemble's ongoing 59-date tour schedule, which must be keeping the payers either onstage or in the air nearly 24/7.
In any event, what audiences heard last Saturday evening, under the enthusiastic baton of Alexei Kornienko, was a sonic spectacular that didn't quite measure up to the usual Russian standard of musical excellence.
The evening led off with an energetic performance of Rimsky-Korsakov's Overture to his tragic opera "The Tsar's Bride." Balanced between passion and melancholy and splashed with Rimsky's shimmering orchestral colors, both his opera and the overture should be better known on this side of the Atlantic.
The orchestra gave a studied reading of the piece. But problems were readily apparent from the outset. The horn players in particular, stumbled over their entrances with some frequency. And the violinists—who, for better or worse, tend to carry the melody line in most classical compositions most of the time—were quite simply overwhelmed by the remaining orchestral forces. I.e., the violinists were fine. There simply weren't enough of them.
For this reason, the balance or mix of the orchestra's sound was frequently off. The accompaniment overwhelmed the melody line much of the time, save when that task was passed off to other sections, such as the accomplished woodwinds or the spotty brass. The effect was often unnerving, particularly in better known pieces like Rachmaninoff's "Rhapsody on a Theme of Paganini," Op. 43, or Rimsky's beloved "Scheherazade," Op. 33.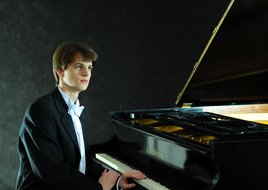 Speaking of the Rachmaninoff—always a winner on concert programs—it was notable in large part for the skillful playing of young pianist Alexander Sinchuk, winner of the
2009 International Rachmaninoff Piano Competition
. Displaying admirable technical skills fully in harmony with his matinee-idol good looks, Mr. Sinchuk danced through Rachmaninoff's devilish variations with pluck, skill, and scarcely a false note. The audience responded with enthusiasm, inspiring him to return to offer a brief solo encore.
His musical reply, Chopin's impressive Etude No. 11 from the Polish composer's Op. 25 collection, is always enough to test any pianist's virtuoso chops. Mr. Sinchuk attacked the piece with relish, encountering only a minor mishap or two. But his interpretation was a bit odd, seemingly failing to spot and bring out the wonderful bel canto lines the composer carefully tucked into this passionate exercise. I suspect this omission was simply a youthful error of interpretation. One can spend a lifetime finding buried treasure in almost every one of Chopin's brilliant miniatures, and Mr. Sinchuk is just starting out.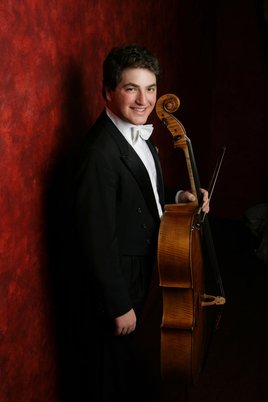 Following intermission, the orchestra returned for probably its best-realized musical effort of the night, Tchaikovsky's "Variations on a Rococo Theme," Op. 33. The performance featured young American cellist
Julian Schwarz
as soloist.
I'd forgotten what a wonderful piece this is, having not had a chance to hear it for quite some time. But Mr. Schwarz, only 18, gave a phenomenally mature, polished performance of the work. The orchestra provided him with a carefully nuanced backup, almost as if the composer had designed the work's instrumentation especially for them.
As for Mr. Schwarz—he's the son of Seattle Symphony conductor Gerard Schwarz. The young Mr. Schwarz will be steered toward at least a couple more years in a conservatory environment before he begins his career in earnest. But if Saturday's performance of the Tchaikovsky is any indication of his musical maturity, he might seriously consider doing a LeBron James and launching his career right now.
For the program's final work, as we've already noted, the orchestra returned to the work of Rimsky-Korsakoff, performing his symphonic suite, "Scheherazade," Op. 35. When I was growing up, this might have been, aside from Tchaikovsky's First Piano Concerto, the most popular piece of Russian classical music ever, at least in this country. One still hears it on classical radio quite a lot. But it's less often performed live now, than in the past.
From its relentlessly storm-tossed Sinbad motif to the climactic wreck of a sailing vessel in the finale, this is a work that defines Rimsky's mastery of orchestral coloration. It's exceeded perhaps only by that of Gustav Mahler in the classical pantheon. (Honorable mention to Maurice Ravel for his definitive orchestration of Mussorgsky's "Pictures at an Exhibition.")
"Scheherazade" is a real symphony as far as I'm concerned. With it's broad opening movement conjuring up the adventures of Sinbad the Sailor, to its odd, enigmatic scherzo focused on two quarreling princes, to the third movement's romance and a concluding movement that unites these themes, it's a marvelous, organic conception by the composer. It's his homage, if you will, to the classic "1001 Nights" tales woven by the clever Princess Scheherazade.
The Princess' narration is represented at various intervals by the solo violin, a part performed Saturday by the orchestra's unnamed concertmaster. She's a franchise player for sure, and gave a brilliant reading of this recurring part, as fine a performance as I've seen. The orchestra itself sounded quite good for the most part in this work as well, although the string shortage was again apparent from time to time.
The orchestra returned to perform a combustive encore, the "Lezghinka" dance from Aram Khachaturian's "Gayne Ballet." The most popular dance in this score is, of course, the immortal Sabre Dance. It's often encountered even today at the circus, of all places, where it usually serves to accompany some particularly spectacular act. Even classical music haters will readily recognize its popular tune.
"Lezghinka" is less well-known. But it is, if possible, even more boisterously out-of-control than the "Sabre Dance," making it picture-perfect for the orchestra's encore. (For a good-sounding performance but a rather odd video conception of Lezghinka, check out the video below.)
Fun factoid: The "Gayne Ballet" itself takes place on a collective farm. It was composed as a sort of "We Are the World" piece meant to celebrate real or imagined ethnic harmony in Stalin's Soviet Union. Ironically, the Armenian Khachaturian often failed to impress the Stalinists anyway.
In any event, this otherwise musically appealing ballet is rarely given a complete performance these days given its propagandistic origins. That's too bad, because it's got plenty of wonderful music in it. Khachaturian's over-the-top ethnic dances are just as irresistible as the better-known Polovtsian Dances from Borodin's "Prince Igor."
The percussionists went to town in this piece with obvious relish, thunderously obliterating the rest of the orchestra at times. That nagging balance problem again. In this case, though, it was hard to get irritated. The percussion dudes were so completely into it that you had no choice but to simply relax and enjoy the fun.
Final verdict: a delightful evening of passionate, energetic Russian music that could have been a whole lot better with more string players, more discipline, and more rest between performance dates.
Rating: *1/2 (One and one-half stars)
---
This article is the copyrighted property of the writer and Communities @ WashingtonTimes.com. Written permission must be obtained before reprint in online or print media. REPRINTING TWTC CONTENT WITHOUT PERMISSION AND/OR PAYMENT IS THEFT AND PUNISHABLE BY LAW.