FAIRFAX, Va.—George Mason University's Center for the Arts pulsed with excitement this past Saturday evening. A good-natured mob of concertgoers, young and old alike, crowded the main foyer, simply bubbling over with smiles, laughter and excitement. It was almost like the atmosphere at a rock concert, including a bit of extra security, which wasn't really needed.
But this wasn't a rock concert. Piano phenom Lang Lang had come to Fairfax City to perform that evening with the Schleswig-Holstein Festival Orchestra. Although it's perhaps hard to imagine, in his native China, Lang Lang draws crowds similar to the ones the Beatles inspired a generation ago when they launched what came to be known as the "British Invasion." In China, they call this "the Lang Lang effect."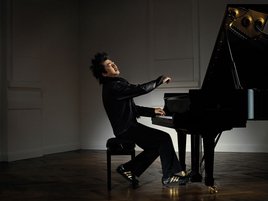 In China, Lang Lang's international success has inspired tens of thousands of kids—often prodded by their parents—to take up classical piano studies, making that country a hotspot for Western classical music, not to mention a country that's likely to produce many of classical music's future stars.
Lang Lang doesn't mess around, either. He came to perform an industrial-strength piano concerto—Prokofiev's 3rd—with the orchestra, an unusual, German-based ensemble comprised of promising young musicians with an international pedigree.
The orchestra, in turn, was under the baton of soon-to-be National Symphony Orchestra music director Christoph Eschenbach, who serves as its principal conductor. He's also great friends with Lang Lang, whom he mentored early in the younger artist's career, and the two united recently to perform benefit concerts for Haiti and Chile, both of which are digging out from recent epic natural disasters.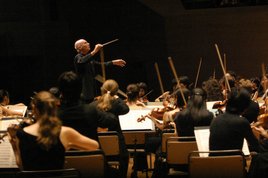 The pianist, the conductor and the orchestra were, in effect, one big happy family Saturday evening, obviously enjoying themselves and all playing their hearts out. While the orchestra lacked the polish of a professional orchestra at the top of its game, these earnest young musicians came awfully close. Crisp, precise and full of passion, this was one of the best performances by a festival-type group I've heard in a long time. It was only during the piano concerto that they occasionally got out of synch. But even when they did, it was subtle and they got back on track quickly.
Maestro Eschenbach certainly didn't choose a wimpy program. In addition to the concerto, the ensemble also performed Prokofiev's deceptively simply Symphony No. 1 ("Classical"), and wrapped up the evening with Beethoven's substantial Symphony No. 7.
Leading off with the Prokofiev symphony, a rather elaborate icebreaker, the young players were poised and polished under Maestro Eschenbach's baton. The symphony dates from the composer's most intense "neoclassical" period, a time when he and other composers, perhaps in partial reaction against the atonal movement—which was in its infancy at the time—tried to go back to the future.
The neoclassicists went for shorter compositions lacking the grander scale of a Mahler or a Bruckner and more resembling the shorter, tighter, better organized style dating from the era of Mozart and Haydn.
Neoclassical works, though, weren't simple re-creations of the past. Time- honored classical forms served as the framework for such compositions. But this more modern music employed harmonies and progressions that had evolved since that era, providing a refreshingly new sound that nonetheless seemed quite familiar. As Cheech Marin once put it in an early Cheech and Chong film, "It's the same, only different."
Prokofiev's First Symphony is perhaps the best example of this technique. It sounds like Haydn all the time, except that it doesn't. Prokofiev doesn't stay in the same key, doesn't follow the standard modulations.
The tempos in the symphony's outer movements are extraordinarily brisk, particularly in the finale, and Mr. Eschenbach took them so fast I thought that many of the violinists' instruments might burst into flame. They stayed with the conductor, however, and the entire performance probably would have impressed even Prokofiev, who was an impetuous young academic himself when he composed it.
Next up was what the audience had come to hear: bushy-haired matinee idol Lang Lang performing Prokofiev's 3rd piano concert. Prokofiev was the piano soloist, performing with the Chicago Symphony Orchestra in the concerto's world premiere in 1921. It was reasonably well received. Since that time, however, it's become one of the most popular piano concertos written in the 20th century.
The Third Concerto is quite a contrast with the "Classical" Symphony, showing the composer's other side—his stark modernism, whose odd rhythms, rattling percussive effects, and muscular writing for the solo instrument differed greatly from traditional classicism while still eschewing atonal extremes.
The Third is a viscerally exciting work. The first movement begins quietly before the piano and the orchestra erupt in a series of violent, highly accented excursions that suddenly morph into romantic surges of great beauty. The finale works much the same but at a much faster tempo. Between the two, a long, odd, slow movement twists and turns, a series of wildly differing variations on a single main theme, mostly tranquil but exploding, once again in an almost barbaric central climax.
One of the more interesting things about this concerto is that it came during a period when Prokofiev, Bartók, and others were exploring the more percussive side of the piano.
The piano, of course, is an odd amalgam of a string instrument and a percussion instrument. Strings are indeed played, as in a cello or violin. But the strings are struck, in this case, with dense felt hammers. They're not plucked (as in a harpsichord or as in pizzicato string passages), nor are they played with a bow. This, added to the instrument's large cast-iron frame—which gives the instrument its tensile strength—and its large, resonant soundboard, makes the piano a formidable beast that can alternate between quiet, lyric romanticism and loud, triumphal bass and octave passions.
Prokofiev's Third exploits some of the lyricism of the instrument, but above all, the composer gives free rein here to the piano's potential for explosive power. Lang Lang obviously loves that idea as well as this music. He ripped right into it Saturday evening and never looked back. I have heard more elegant performances of this concerto, but this is the first time I've heard it as I imagine Prokofiev wanted it played.
As a pianist, Prokofiev took no back seat to Rachmaninoff, although he wasn't as well known as the latter for this skill set. Those who heard him play, however, were impressed by the steely strength he displayed in this and other concertos when the occasion called for it. Lang Lang took power and precision as his cue, blasting into the concerto with a wonderful ferocity that kept the audience on the edge of its collective seat. This was literally a hair-raising performance throughout, quiet and mannered when it needed to be, but turning on the afterburners when the occasion called for it.
Lang Lang didn't snap any strings on the mighty Steinway concert grand, but my guess is the instrument needed a thorough tuning when he got through with it. That's not a rap on the pianist at all. This concerto was designed to be played that way. Lang Lang gets this and turned in one of the most exciting interpretations of any concerto I've yet had the privilege to hear in a very long career of concertgoing.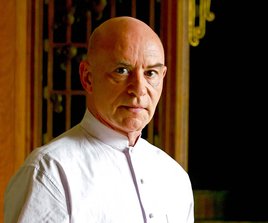 Maestro Eschenbach helped out immensely here, directing his young charges—with the occasional, aforementioned tempo lapses—to provide just the kind of accompaniment Lang Lang needed. They stayed in the background when the soloist needed to dominate, but asserted themselves at the right time in those moments when the composer intended the pianist to take a back seat. It was an almost perfect musical dialogue. And I'm convinced that many in the sold-out crowd went home with memories for a lifetime.
After the Prokofiev, I feared the Beethoven 7—long, exciting, challenging and popular—might prove to be a letdown. Happily, it wasn't. The orchestra turned in a sterling performance, a really superb reading. After the brief, languid first movement introduction, the symphony launched forward and never looked back.
Again, Mr. Eschenbach took the finale at such a fast tempo I thought for sure the string players would wear out. But these young players were game and gave the maestro what he wanted. They also carefully observed his shading requirements throughout—something I remarked upon during Mr. Eschenbach's distinguished direction of the Verdi Requiem a couple of weeks ago with the NSO at the Kennedy Center.
If this is the kind of skill and quality we can expect from this conductor as he takes over the reins of the NSO and the Kennedy Center's own music program in the fall, we're in for some exciting moments.
Meanwhile, Saturday evening was plenty exciting for concertgoers at GMU's Center for the Arts. Ticketholders were rewarded with one of the best performances I've heard of anything in this venue. It's something that they'll long remember. And the same goes for me.
Rating: ***1/2 (Three and one-half stars.)
---
This article is the copyrighted property of the writer and Communities @ WashingtonTimes.com. Written permission must be obtained before reprint in online or print media. REPRINTING TWTC CONTENT WITHOUT PERMISSION AND/OR PAYMENT IS THEFT AND PUNISHABLE BY LAW.