SAN CLEMENTE, Calif. —"With the restaurant here, we're trying to represent all Hawaiian cuisines–from fusion to plate lunch," said chef Aaron Lee about Hapa J's Hawaiian food. "This is also home style cooking. At home we cook every weekend. Family's a big part of culture," the Hawaiian native added. The chef, 28, is happily recreating his family's recipes, lunch wagon specials, luau traditions, fusion entrées and pupus. Lee's Man fries cry out to be ordered. He tosses fries in his secret chicken wing sauce, tops them with Hawaiian pulled pork, ranch and barbecue sauce, then melts cheese over the top, and garnishes with green onions.
The restaurant, open just a year and a half, has already drawn a faithful local crowd to south San Clemente, along the coast halfway between Los Angeles and San Diego. The restaurant is the brainchild of Lee and owner/operator Justin Hose-Shea.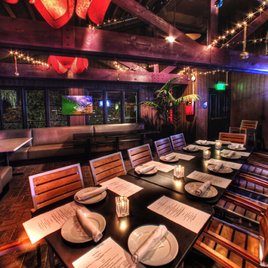 Hapa is a Hawaiian word meaning part white, hapa haole, and part island and Asian heritage. Hose-Shea's wife is Hawaiian, and their son's name is Jaedon; hence the J in Hapa J's.
Hose-Shea began working as a bartender and manager after earning a bachelor's degree in hotel administration from the University of Nevada, Las Vegas. Originally from Orange County, he worked for Smith & Wollensky's Steakhouse in Las Vegas before moving to Hawaii.
It was at the Moana Surfrider Resort, a Waikiki landmark, that he met Lee. "I saw his talent right away," he said. "I just really enjoy Aaron's cooking—his textures, colors and flavors; and his talent for buffets. He's amazing."
The two discussed opening their own restaurant.
"We saw Roy (Yamaguchi) and Alan Wong push the envelope on the high end. Tourists won't try the hole-in-the-wall places. We wanted to open something middle-of-the-road," he explained. Both Lee and Hose-Shea were thinking of Hawaii when the restaurant space in San Clemente became available. The property owner Victor Avila, longtime friend of Hose-Shea's father's, told his father about the location. Soon after, a deal was struck. They remodeled the restaurant to create a tropical-but-homey feel.
The building has been a restaurant since the 60s and was a breakfast diner originally. Hose-Shea believes some of the passed-on owners and diners haunt the property-: "They're still here. We hear noises and see shadows."
The hands-on owner loves the work even with the requisite long hours. "This (hospitality) and football are the only things I'm good at or passionate about," he said. The restaurant, now open seven days a week, is seeing growth and theme nights such as Taco Tuesdays have become big hits.
"We kept hearing about the Korean taco truck. We do kalbi, kimchee. Why can't we do this?" Hose-Shea said. " We wanted it to be legit. So, we have one of our server's aunts making tacos from fresh masa. We've got pulled pork, seared ahi poke, and coconut shrimp tacos."
On Tuesdays the kitchen turns out up to 500 tacos. The prices bring customers and families into the restaurant.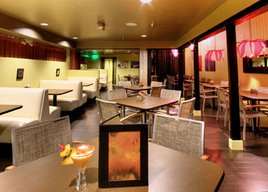 Lee might never have left his island home.
"The way I looked at it was it was too good an offer to pass up. I want to increase my skills and intend to return," he said.
Lee did not intentionally get into cooking. He attended a local junior college and began by taking just the prerequisites.
"Culinary was the No. 1 program. I started taking classes and took off from there," he said. Lee worked in a variety of kitchens—from mom-and-pop places to high-end hotels. "I like classical stuff including French continental. There's a reason it's the basis for all cooking. It's all about the sauces. I also like Italian." Lee's last job in Hawaii was at the Moana Surfrider resort with Hose-Shea, who was a manager there.
The chef said he enjoys life in California and teaching his crew the subtleties of Hawaiian cuisine.
"I'm adjusting to the air here. Everyone drives fast," he added.
The chef is making good use of his time here. Mexican food is a cuisine he's learning to appreciate. "They don't really have it in Hawaii." And, surprise, he likes Las Vegas.
Hapa J's
2016 S. El Camino Real
San Clemente, Calif. 92673
HapaJ's.com
Menu highlights
Spicy poke bowl $5.99
Mini luau plate $9.50
Hawaiian beef stew moco $8
Kalua pig quesadillas $11
Thai beef salad $11
Grilled kalbi short ribs $11
Shrimp truck special $12
Macadamia nut-crusted mahi-mahi $25
Kalbi short rib taco $2.75
Breakfast pocho taco $3.00 (Portuguese sausage, scrambled egg, salsa and onions)
Seared ahi poke taco $3.25
Coconut shrimp taco with mango sweet n sour $3.25
Linda Mensinga was editor of Culinary Trends for 15 years, now a contributing writer. If you have a great restaurant, recipe or food you'd like to share please send an email. You can reach her at mensingabakes@gmail.com or Linda@culinarytrends.net.
---
This article is the copyrighted property of the writer and Communities @ WashingtonTimes.com. Written permission must be obtained before reprint in online or print media. REPRINTING TWTC CONTENT WITHOUT PERMISSION AND/OR PAYMENT IS THEFT AND PUNISHABLE BY LAW.