Spinaci-Ricotta Gnocchi
Brown butter, sage with cheese vellutata
(Serves 4-6)
1 onion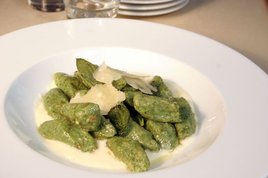 1 tablespoon garlic minced
Oil, as needed
1 pound spinach
1 egg
8 ounces (1 cup) ricotta
10 ounces white bread (softened in water or milk, then squeezed dry)
3 ounces (3/4 cup) flour
3 ounces (3/4 cup) Parmesan, grated
Salt and pepper, to taste
1/2 teaspoon nutmeg
1 teaspoon marjoram
Sweat the onion and the garlic in oil, add spinach and cook until wilted. Add mixture to blender and add egg. Blend.
Add remaining ingredients to a bowl, add spinach mixture and mix completely. Let rest for 20 minutes.
Form the dough into long rolls and cut into small dumplings.
Cook the dumplings in boiling, salted water.
When the gnocchi float to the top, continue to simmer for 2 minutes.
Strain the gnocchi.
Cheese vellutata sauce
4 ounces (1 stick) butter
1 cup flour
4 cups milk
4 ounces (1 cup) fontina cheese
2 ounces (1/2 cup) grated Parmesan cheese
1 cup cream
Salt and pepper, to taste
Melt the butter over low heat and add the flour; cook for 2-3 minutes. Add the milk slowly, stirring constantly until it thickens and is smooth. Remove from heat and add the cheeses, stirring until melted. Add the cream and seasoning.
To serve
Brown butter, as needed
Sage leaves, garnish
Parmesan, to garnish
Sauté gnocchi with brown butter and sage. Ladle vellutata sauce and place gnocchi on top. Garnish with Parmesan.
TusCA, Hyatt Regency Orange County
Anaheim, Calif.
---
This article is the copyrighted property of the writer and Communities @ WashingtonTimes.com. Written permission must be obtained before reprint in online or print media. REPRINTING TWTC CONTENT WITHOUT PERMISSION AND/OR PAYMENT IS THEFT AND PUNISHABLE BY LAW.