"If you want to be a successful chef you have to be driven, talented and relentless," said Chef Jennifer Beisty about her decision to try out for Top Chef season 4. "I found myself at a plateau in my career as chef of an established San Francisco restaurant but craved more challenge. After watching the first season of Top Chef I thought that looks fun and I can do that!"
Getting chosen is in itself no small accomplishment. "The first curtain call I went to there were 300 people." That was just the San Francisco area.
Even though she had watched other seasons the process of reality TV was more than she anticipated. "The sound, light, set and camera were fascinating. Living with 15 people was not my idea of a fun time."
"The challenges were hard and super stressful but I loved it. The adrenaline was like nothing I felt before. Having producers ask questions all through the challenge accentuated the stress," she said.
Currently Jen is executive chef at Scala's Bistro in San Francisco's Sir Francis Drake Hotel. "Honestly, I knew I could do the job but being on the show was a great selling point to the owners," she said.
Chef Jen still talks to some of her competitors when she runs into them. "I mostly keep up with Andrew (D'ambrosi, executive chef at Daniel) and Dale (Talde, executive chef at Budakkan) if I go to NYC. Ryan (Scott, chef at Café Myth), Erik (Hopfinger, executive chef at Circa) and I bump into each other often here in San Francisco."
Jen also keeps busy with charities and events such as Taste of the Nation, Boston Pride and being auctioned off to cook dinner for various causes.
Fans can look for Chef Jen again on the TV Food Network. "I really want to compete on Iron Chef against Mario Batali or Michael Symon. It's a huge goal for me."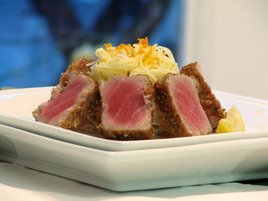 CORIANDER CRUSTED SEARED TUNA CAPELINNI
For the tuna:
4 oz. Blue fin tuna cleaned, cut into 2" diameter logs
3 oz. Coriander seed, lightly toasted, crushed
3oz. Canola oil
Season the tuna roll in the coriander, incrusting it totally
Heat a stainless steel sauté pan with the canola oil
Just before the oil begins to smoke add the tuna log.
Sear on each side for 30 seconds. Just enough to sear but not to cook the delicate fish too much the idea is that the fish is essentially raw.
Chill the fish immediately so to retard any carry over cooking
In boiling water cook
1 quarter pound of capellini pasta
in a mixing bowl : make a vinaigrette
1 oz grated bottarga al tonno
1 oz. lemon juice
2 T. parsley chopped fine
3 oz. Extra virgin olive oil
Salt and pepper
Mix the cooked pasta tossing thoroughly/ keep warm
Slice the chilled tuna with a fine, thin knife ¼ inch thick. 3-4 pieces
Twirl the bottarga pasta with a dinner fork forming a spindle
Lay the tuna around the spindle
Drizzle the remaining vinaigrette around the plate
Garnish with julienne of preserved lemon
Eat and be happy
Chef Jen Beisty
Scala's Bistro
San Francisco
---
This article is the copyrighted property of the writer and Communities @ WashingtonTimes.com. Written permission must be obtained before reprint in online or print media. REPRINTING TWTC CONTENT WITHOUT PERMISSION AND/OR PAYMENT IS THEFT AND PUNISHABLE BY LAW.