Brazo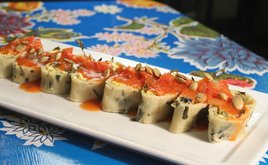 de reina (Queen's arm tamal)
(Serves 5)
4 pounds masa (can be purchased at tortilleria or make your own with masa harina)
Salt and lard or oil
2 cups chaya*, chopped (or frozen spinach)
20 hardboiled eggs, chopped
2 cups toased ground unhulled pumpkin seeds
3 pounds hoja de plátano, (banana leaf) cut into 12"x10" pieces
Salsa de tomate (see Papadzules)
Mix the masa with the chaya until well blended.
Using a #6 scoop (2-3 ounces, ice cream size), scoop out a ball of masa and place in the center of one of the banana leaves covered with a piece of plastic wrap. With a tortilla press or pan or pie plate, lined with plastic wrap, press to make a 6- to 8-inch tortilla. Remove plastic.
Sprinkle about 2 tablespoons of the pumpkin seeds on the tortilla. Follow that with about 2 tablespoons of the hardboiled eggs on the lower third of the tortilla.
Begin to roll the tortilla, starting at the lower end, carefully separating the masa from banana leaf. Fold the rolled tamal in the banana leaf wrapper. Repeat.
Place the tamales in a steamer and steam for 25-30 minutes or until the masa easily separates from the leaf. Let rest for 10-15 minutes.
Remove leaf and slice each tamal into 8 slices, crosswise to reveal the pinwheel of filling.
To serve
Arrange slices of one tamal on plate and serve salsas de tomate on the side.
*Chaya, also known as tree spinach, is a leafy shrub native to the Yucatan peninsula. The leaves, similar to spinach, must be cooked because raw leaves are toxic. Chef Gilberto serves it with eggs and as a surprisingly delicious drink called Agua de Chaya.
Papadzules (tortillas stuffed with hardboiled eggs, pumpkin seed sauce)
(Serves 6)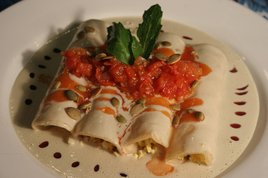 One Yelp reviewer called this dish a game-changing discovery.
Pumpkin seed sauce: Pipián
1/2 gallon water (2 quarts)
10 ounces ground, toasted, hulled pumpkin seeds
1/2 bunch epazote
1 tablespoon salt
Bring water to a boil and add ground pumpkin seeds, epazote and salt. Simmer over medium heat for 15 minutes. You'll know it's done when you pinch a small quantity between two fingers and it smears smooth and is not grainy.
Liquify in a blender or with a hand held immersion blender.
Return to medium heat and simmer until it reduces to the consistency of a mole (if you dip a tortilla in it, it coats the tortilla). Cover and keep warm.
Filling and topping
12 eggs hardboiled, chopped
1 cup salsa de tomate (recipe follows)
1 cup sofrito (recipe follows)
Salsa de tomate
1/2 gallon water
4 medium salad tomatoes, about 1 pound
2 cloves garlic
1 medium white onion, quartered
1 teaspoon salt
3 tablespoons vegetable oil
Fill a large pot with the water and add the tomatoes, garlic, onion and salt. Bring to a boil for about 30 minutes or until the tomatoes easily break apart.
Liquify in a blender with a water until you get a smooth puree. Do in batches if you have a small blender. The sauce will be watery.
Heat oil in a pan. Add puree and let it cook over medium heat until it thickens somewhat, about 15 minutes. It should still pour easily, only slightly coating a spoon. Adjust salt.
Sofrito
10 medium plum tomatoes
1 chile habanero
3 sprigs cilantro, chopped
1/2 teaspoon salt
Roast tomatoes and the chile on a comal (griddle) or pan low to medium heat until they are soft to the touch and charred on the outside. If the heat is too high, the tomatoes will not cook through. Let rest and cool.
Add all ingredients to a blender or food processor. Pulse into small chunks.
To serve
24 tortillas
Toasted pumpkin seeds
Pumpkin seed oil, as needed
Warm a tortilla and dip into the pumpkin seed sauce. Place about 2 tablespoons of the chopped hardboiled eggs into the tortilla and roll up. Repeat until all tortillas are dipped, stuffed and rolled.
Place 4 tortilla rolls on a plate. Spoon 2 tablespoons of salsa de tomato around the papadzules and top them with 2 tablespoons of sofrito. Sprinkle with toasted, hulled pumpkin seeds, and drizzle with pumpkin seed oil.
Panuchos
(Serves 6-8)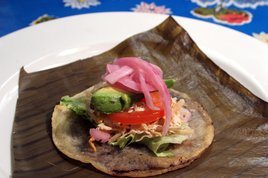 1 pound masa
1 teaspoon salt
Frijoles colados (recipe follows)
Vegetable oil, as needed
Toppings
Thinly sliced green leaf lettuce
Sah kol de pavo (roasted turkey) (recipe follows)
Sliced pickled red onions (optional recipe follows)
Sliced tomatoes
1/2 avocado
Pickled red onions
3/4 cup (180ml) white vinegar
3 tablespoons (50gr) sugar
Pinch of salt
1 bay leaf
5 allspice berries
5 whole cloves
1 small, dried chile pepper
1 large red onion, peeled, and thinly sliced into rings
In a small, non-reactive saucepan, heat the vinegar, sugar, salt, seasonings and chile until boiling. Add the onion slices and lower heat, then simmer gently for 30 seconds.
Remove from heat and let cool completely.
Transfer the onions and the liquid into a jar then refrigerate until ready to use.
Mix or knead salt into masa. Divide masa into 15 balls. As you work, keep the masa balls in a bowl covered with plastic wrap to keep the dough from drying out.
Line a tortilla press with a piece of plastic wrap. Put one ball of masa into the center of the press, cover with another piece of plastic wrap (or wax paper). Press down on tortilla press until the tortilla is about 6 inches in diameter.
Carefully place a tortilla on a hot comal, griddle or skillet. Flip to cook on both sides. While still on the coma, press tortilla with a folded kitchen cloth and it will puff up. Press around edges to make sure it puffs up all around. Remove from comal.
View Entire Story
---
This article is the copyrighted property of the writer and Communities @ WashingtonTimes.com. Written permission must be obtained before reprint in online or print media. REPRINTING TWTC CONTENT WITHOUT PERMISSION AND/OR PAYMENT IS THEFT AND PUNISHABLE BY LAW.