Every chef has a sous chef or chef de cuisine. No one does it alone however talented he or she may be. Restaurants by definition are a team effort. Look into every famous and less famous top chef and there's a loyal second somewhere back in the kitchen making food happen. Sapphire Laguna is no exception.
Chef/owner Azmin Ghahreman
The popular restaurant in Laguna Beach overlooking the Pacific is the dream of Chef/owner Azmin Ghahreman. A native of Iran, with culinary diploma from Switzerland, the widely-traveled chef has worked all over the world including Australia, Malaysia, Turkey and Singapore. In the US he was executive chef in Kona, Hawaii; Wailea, Maui; San Jose, California; and Dallas, Texas. Before opening Sapphire Laguna and the next-door gourmet shop, Sapphire Pantry, in 2007, he ran the kitchen at the St. Regis in Monarch Beach, California. With such experience it's no wonder that his cuisine is globally inspired using the best local products from California.
"Since I've been fortunate to travel and cook around the globe, I'm able to maintain the authenticity of each of our regionally-focused dishes and show respect to a specific region where the dish originated," Chef Ghrahreman commented.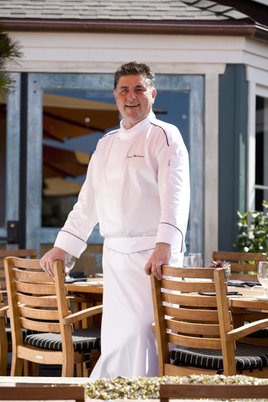 The two dishes featured below–Ras al Hanout Ling Cod on Brioche and Baked Indian Spiced Salmon–reflect his interest in spices. "I enjoy spices in my daily life and value the flavor they bring to each dish. My inspiration for both of these dishes came form my experiences traveling on a Crystal Cruises about a year ago to India, Dubai and Phuket. I've also made a hobby out of visiting spice markets around the world, which allows me to become familiar with many exciting and exotic flavors."
The 49-year-old husband and father of 3 young children pursues his hobbies with the same passion he brings to his restaurant. Not surprisingly he loves learning about wine, cheese, spices and gardening.
Along with supporting charities such as the Miracles for Kids, March of Dimes, National Kidney foundation and the AIDS Foundation, the chef is involved with local schools in an effort to teach about healthy foods. He started a school lunch program that is delivered daily to St. Anne School in Laguna Niguel. His menus, which the children love, are based on the Mediterranean food pyramid.
Corporate Chef Tin Vuong
In charge of day-to-day operations is Corporate Chef Tin Vuong. While not as well traveled as Chef Ghahreman, Vuong has spent time in Europe especially Italy. "I see what other tables are ordering and just eat what the locals do," he said about dining overseas. He also dines at the countless ethnic restaurants in Los Angeles.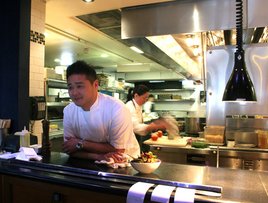 Being as adventurous and open-minded as Ghahreman is one way the two chefs are on the same wavelength. Caring about where the food comes from is another. "In Europe I see more respect for food. There's a farmer's market every day." The restaurant sources local and sustainable products as much as possible.
"We collaborate. I understand his direction and trust has been built," Chef Vuong said about his relationship with his boss. After working together for 9 years, the chef de cuisine also helps create the menu, which changes 3 or 4 times a year. "We trust in our food and have not lowered prices," he said about the recession. "We don't market directly and don't do restaurant weeks." In summer about 80% of guests are tourists, making a reservation tough to get. "In winter the locals come back."
Sapphire Laguna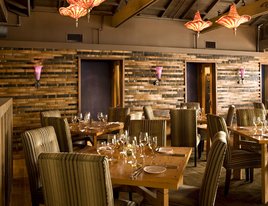 1200 South Coast Hwy
Laguna Beach, CA 92651
(949) 715-9888
Lunch menu highlights
Ancho Chicken Quesadilla, Oaxaca Cheese, Roasted Poblano, Trio of Salsas $14
Baked Indian Spiced Salmon, Tomato-Cucumber Cous Cous Salad, Madras Yoghurt $14.75
Ras al Hanout Ling Cod on Brioche, Sweet pineapple Spread, Za' Tar Fries $14.50
Pan-seared Barramundi, Heirloom Tomato, Kipfler Potato, Watercress, Caper Citronade $16.75
Kobe Beef Havarti Cheeseburger, Caramelized Onion, Wild Arugla, Tomato, Garlic Fries $16.50
Grilled Prime Sirloin "BLT Salad" Baby Iceberg, Smoked Bacon, Boiled Egg, Tomato,Portobello, Broken Bue Cheese Vinaigrette $15.75
Dinner menu highlights

Hong Kong Style Salt and Pepper Shrimp $14.75

Tiradito of Kampachi and Day Boat Scallop, Avocado, Coconut-Lime Juice, Aji Oil $15

Lebanese Lamb Kibbeh, Hummus and a Taste of Fattoush $13.75

Clay Pot Monkfish, Baked Polenta, Country Eggplant-Tomato Stew $28

Spanish Marinated Lamb Sirloin, Manchego "Mac & Cheese", Romano Beans, Tomato-Rosemary Glaze $29.50
Baked Indian Salmon
Tomato-Cucumber Cous Cous Salad, Madras Yoghurt
(Yields 2)

2 6-ounce pieces center-cut salmon fillet without skin
1 tablespoon vegetable oil
1 teaspoon Indian spice blend (recipe follows)

Pat salmon pieces dry and season with Indian spice. In a 10- to 12-inch non-stick skillet heat oil over moderately high heat until hot but not smoking and sauté salmon, 2 minutes. Reduce heat to moderate and cook salmon 3 minutes more. Turn salmon over and sauté over moderately high heat 2 minutes. Reduce heat to moderate and cook salmon until just cooked through, about 2 minutes more.

Tomato-Cucumber Cous Cous Salad
(Yields 2)

¼ cup olive oil
2 cups chopped onions
1 ½ cups water
1 cup couscous (about 12 ounces)
1/3 cup chopped fresh mint
½ cup small diced, cucumber, seed and peeled
½ cup small diced, tomato, seeded

Heat oil in heavy large pot over medium-high heat. Add onions and sauté until very tender and beginning to brown, about 15 minutes. Add water and bring to boil. Mix in couscous. Cover pot; remove from heat. Let stand 15 minutes.
Using fork, fluff couscous. Let cool. Mix in mint, cucumber, and tomato. Season with salt and pepper.

Indian Spice Blend
(Yields 3 Cups)

1 teaspoon ground fenugreek seeds
1 tablespoon madras curry powder
1 tablespoon ground cumin
1 teaspoon ground cardamom
1 teaspoon brown mustard seeds
¾ teaspoon turmeric
½ teaspoon grated nutmeg
½ teaspoon hot red-pepper flakes
¼ teaspoon ground cloves

Mix together well.
Madras raita
(Yields 1 cup)

½ cup plain yogurt
½ cup chopped seeded English hothouse cucumber
2 tablespoons chopped fresh cilantro
2 tablespoons chopped shallot
¼ teaspoon ground coriander
¼ teaspoon ground cumin
¼ teaspoon madras curry

Mix all ingredients in medium bowl. Season to taste with salt. Chill raita, covered, until ready to serve.

Chef Azmin Ghahreman
Sapphire Laguna
Ras al Hanout Ling Cod Sandwich
(Serves 1)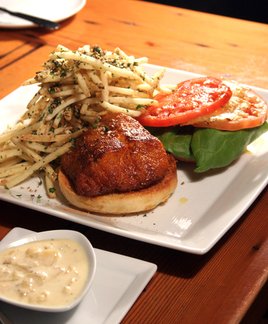 4 ounces ling cod
2 teaspoons ras al hanout*
Pinch salt
1 brioche bun
2 tablespoons pineapple mayonnaise
2 leaves butter lettuce
2 slices tomato
1 slice grilled pineapple

Peel pineapple, place on the grill till all sides are well charred, cool. Once cooled remove the core and cut into 1/8 inch slices.
Dust ling cod with salt and ras el hanout. Sear in a hot pan and finish in a 375⁰ oven for 5 to 6 minutes.
Place the bread inside the oven to warm up at the same time.
Remove the fish and bread from oven.
Spread pineapple mayonnaise on both sides of the bread
Add lettuce, tomato, and grilled pineapple ring.
Serve with fries or a salad.

Chef Azmin Ghahreman
Sapphire Laguna

* Ras al hanout is a signature spice blend in Morocco and other North African countries. Ras el hanout means top of the shop and blends usually include cardamom, clove, allspice, chili peppers, coriander, cumin, nutmeg, turmeric, cinnamon and peppercorn.
---
This article is the copyrighted property of the writer and Communities @ WashingtonTimes.com. Written permission must be obtained before reprint in online or print media. REPRINTING TWTC CONTENT WITHOUT PERMISSION AND/OR PAYMENT IS THEFT AND PUNISHABLE BY LAW.