"We can have our fish and eat it too," said Dr. George Leonard speaking at the Monterey Bay Aquarium's 2010 Cooking for Solutions on the panel called "Greening the Blue Revolution." Leonard is the director of Ocean Conservancy's Aquaculture Program where he works to ensure that U.S. aquaculture develops under strong environmental standards. His outlook on aquaculture is pretty optimistic hoping that policies will be implemented in advance of problems. "Market issues affect seafood. We are obsessed with shrimp and salmon," he said. According to Leonard, 80% of fresh and frozen salmon in the U.S. is farmed, as is 75% of shrimp. "We need to make them better, not tell people not to eat them."
One example Leonard mentioned was the newly developed salmon farm done in closed containment freshwater system. The Aquarium's Seafood Watch gave the method a green rating, a first for any farmed salmon. That closed containment avoids the problem of too much waste from the salmon being released into coastal waters. The waste includes nitrogen, phosphorus, parasites and fecal matter that can contaminate the seabed and shellfish that live there.
Leonard added, "There are trade-offs." He went on to describe one danger of land-based fish farms. "The little ones can go down the drain and don't all die," he explained. Asian carp imported by catfish farmers to clean the ponds have migrated up the Mississippi River and are poised to invade the Great Lakes.
One other issue is the amount of fish needed for the carnivorous salmon. "The concern with salmon is that salmon feed contains high levels of fishmeal and fish oil. These are sourced from catching millions of small fish such as sardines and herrings, which are important in the ecosystem," Alan Duckworth, PhD, Blue Ocean Institute.
Panelist Howard Johnson, director of Global Programs for the Sustainable Fisheries Partnership shared that 50% of seafood consumed is farmed. To put it in context, he also mentioned that in 1960, it was only six percent. "It's difficult to be precise because some countries don't have the capacity to be accurate," he explained. If seaweed is added, the amount is even more. Johnson reminded the audience that aquaculture turned salmon from luxury item into a global commodity.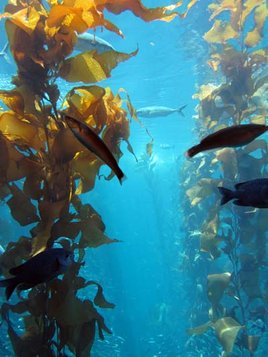 Panelist Dr. Thierry Chopin, a French native, is a professor at the University of New Brunswick in Saint John, Canada. His research focuses on developing seaweeds for commercial value and integrated multi-tropic aquaculture (IMTA) systems for environmental sustainability, product diversification and better management practices. His concept is to mix aquaculture to include salmon, seaweed and mussels in the same area. "It's a flexible system in which you can choose the species according to function. Shellfish have an important function as filter feeders," he said.
While seaweed may be thought of mainly as a wrap for sushi, it is consumed by many people in East Asia as a regular part of their diet. Seaweed is also used as a food additive, agar, as a gelling or emulsifying agent. Chopin hopes to sell his seaweed to cosmetic companies in Europe for use in skin creams. And currently three restaurants in Canada are cooking his seaweed and he hopes to expand the practice.
Seaweed and sea vegetables contain minerals such as potassium, iron, iodine, calcium and zinc. They also provide vitamins A, B1, B2, B6, niacin and vitamin C. The Japanese use seaweed in many dishes such as nori with rice, wakame in soup or with vegetables, konbu in soup or with smoked herring, or hijiki as a side dish.
For more information, please visit www.sustainablefish.org ,
http://www.unbsj.ca/sase/biology/chopinlab/ and
http://www.oceanconservancy.org.
Linda Mensinga was editor of Culinary Trends for 15 years, now a contributing writer. If you have a great restaurant, recipe or food you'd like to share please send an email. You can reach her at mensingabakes@gmail.com or Linda@culinarytrends.net.
---
This article is the copyrighted property of the writer and Communities @ WashingtonTimes.com. Written permission must be obtained before reprint in online or print media. REPRINTING TWTC CONTENT WITHOUT PERMISSION AND/OR PAYMENT IS THEFT AND PUNISHABLE BY LAW.