Some of these are quite familiar, simply given a twist or upscaled. Others are new, at least to most of us. Expect to see these soon on a menu, recipe, magazine or TV food show.
Sustainable seafood, local/organic produce and meat are all viewed as continuing hot trends by the American Culinary Federation chefs (ACF). Promoting products as sustainable is happening across the food industry and will continue in 2010.
Farmer's market and restaurants with gardens
ACF members see farm-branded menu items in a positive light along with restaurant gardens. Roof-top boxes grow fresh herbs more cheaply than purchasing them, according to Ryan Hoffman, restaurant manager for Blue on Blue in Los Angeles. Chefs shop farmer's markets for the freshest, local ingredients.
Sous-vide (slow simmering over hours inside plasic bags), braising, smoking, liquid nitrogen freezing and oil-poaching (confit) are ACF chefs' current favorite cooking techniques.
Gluten-free
The newest Iron Chef Jose Garces recently participated in the National Foundation for Celiac Awareness sponsored Gluten-Free Cooking Spree. Gluten-free flours, pizza, bread and pastry are on sale everywhere.
A fried egg on top of a salad, burger or pizza can be ordered along with deviled or Scotch eggs.
Better burgers
Burger variations represent an affordable indulgence in the deal-seeking public. Chains join in with premium beef upgrades and larger sizes.
Beer
Brewmasters ferment craft and seasonal labels for menu pairings, themed dinners, sauces and even desserts. IPA steamed mussels, shrimp and bay scallops paired with Hoppy Tower and Maibock marinated pork with potato cake and root veggies paired with Maibock made a menu recently at Karl Strauss in Costa Mesa, CA.
Discounting
Spending is down, casual dining is in. Happy hour, appetizers instead of entrees, less costly cuts of meat, early bird specials all meet frugal consumers' demands. Loyalty programs on social media tempt diners with coupons and discounted offers.
Fried chicken
The latest comfort food to go upscale, fried chicken is re-imagined by big name chefs.
Bacon
Maple bacon doughnuts, bacon chocolate crunch bar and bourbon with bacon prove the cured, smoked pork's staying power for 2010. Even vegans make exceptions for bacon. Some food pundits predict the slow demise of pork belly.
Sweet potatoes
According to Mintel's, a consumer research company, the Thanksgiving standard will become a new functional food due to their fiber, beta carotene, Vitamins C and B6.
Harissa
Harissa is a North African hot sauce or paste whose main ingredients are dried red chili peppers, cumin, coriander, caraway, mint, garlic and olive oil.
Lacking pungent odor and the resulting breath odor of regular garlic, black garlic contains twice the antioxidants of raw garlic. It's sweeter, darker and has a softer texture. It's fermented at high temperature and aged for a month. It has a long history in Korea and Thailand. One taste and you'll be hooked. Visit www.melissas.com.
Mini desserts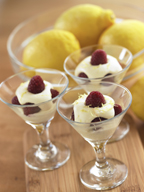 While the idea is not really new, expect to see more of these especially for lunch. Price and waist conscious diners may simply wish for a bite of something sweet to end a meal.
Low carbon footprint
Hilton Hotels recently implemented a purchasing application that allows chefs to calculate the difference in carbon emissions between organic and industrial produce, along with the cost.
Bon Appétit management enables customers to measure their food selection's carbon impact, meaning the amount of greenhouse gases produced by a hamburger, pancake or fish taco. See http://www.eatlowcarbon.org. One point represents one gram of carbon dioxide emissions (CO2e). A 2,000 point item equals 4.4 pounds of CO2e.
No surprise, meat and dairy weigh in with the most emissions. A cheeseburger equals 2500 points compared to chicken and cheese burrito at 750 points. Less obvious is a seemingly virtuous spinach and tofu salad creates 1200 points compared to 600 for Chinese chicken salad. To be truly green, order lentil soup for only 50.
---
This article is the copyrighted property of the writer and Communities @ WashingtonTimes.com. Written permission must be obtained before reprint in online or print media. REPRINTING TWTC CONTENT WITHOUT PERMISSION AND/OR PAYMENT IS THEFT AND PUNISHABLE BY LAW.