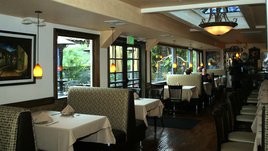 Best known perhaps for the unique wildlife on the Galapagos Islands, Ecuador also has a distinctive food culture, delicious but hard to locate this far from the equator. Chef/Owner William Velasco, 47, opened the first El Caserio 25 years ago and a second 5 years later. Both locations have flourished ever since.
El Caserio serves a unique combination of Ecuadorian and Italian food. Along with ceviche, llapingachos (potato patties) and patacones (fried plantains) a selection of pastas enhance the menu.
Cooking Ecuadorian style comes naturally to Velasco. His family owned a factory where spice blends and condiments were made. "Many of the recipes are my mother's. My grandmother was also a chef for the Peruvian consul in Columbia," he explained. "I always loved to cook." Growing up William spent time in Ecuador and in the US, finally setting in California at age 20.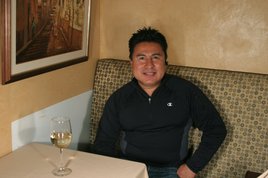 He tried a few things before working as a server in an Italian restaurant where his now long-time chef used to work. "My chef, Armando Gianfranco, is from Genoa and he helped develop the menu," Velasco explained. An Italian chef and Velasco's love of travel in Italy are part of the reason he included Italian food on his menu. The other more practical cause is giving choices to those who may not want to try the less familiar Ecuadorian fare.
The atmosphere at his second restaurant is upscale with a carved door, Tiffany glass skylight over an Italian Murano glass chandelier and a palm-adorned patio. The second location took Velasco some time to complete but he's pleased with the result.
Menu highlights
Duo de humitas $9
Sweet corn and cheese tamales
Sancocho de carne $10
Hearty beef soup with yucca, plantain and corn
Pasticcio de lasagna al forno $14
Traditional Italian lasagna
Casuela marinera $22
Fresh fish terrine with mussels, clams and shrimp broiled in green plantain and peanut sauce
Llapingachos con carne asada $16
El Caserio Silver Lake
401 Silver Lake Blvd.
Los Angeles, CA 90026
El Caserio Ceviche
(Serves 1)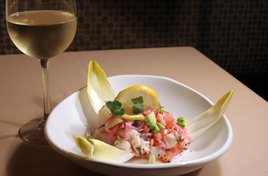 8 21-25* Ecuadorian white shrimp (superior to black tiger which Velasco considers too rubbery)
Poach lightly in water until they curl, about 3 to 4 minutes. Shock in ice.
1/2 red onion, cut lengthwise
Juice of 2 lemons or limes
Salt, to taste
Mix together and place shrimp in marinade at least 2 hours.
Cut shrimp into small pieces.
2-3 sprigs fresh cilantro, chopped and whole
1/2 tomato, finely chopped
1 tablespoon corn oil
Salt and pepper, to taste
1 baby red potato, cooked, peeled, sliced
Avocado sliced, to garnish
Lemon slices
Toss shrimp mixture with chopped cilantro, tomato, oil, salt and pepper. Serve with potato and avocado as shown. Garnish with lemon and cilantro.
Ecuadorians enjoy ceviche with chifles (fried plantain chips) and cancha (corn nuts) on the side.
Chef William Velasco
El Caserio
Silver Lake, CA
Guatita
This Ecuadorian version of tripe was a favorite of former president of Ecuador Abdala Bucaram who included the recipe in his autobiography. If the name is unfamiliar it might be because he only served six months before being dismissed by Ecuador's congress. Not a fan of tripe? The delicious sauce would taste good on just about anything.
Tripe
1 piece tripe
Juice from 1/2 lemon
Salt
1 teaspoon cumin
Garlic cloves
Cilantro sprigs
Boil all ingredients until tripe is tender, at least an hour. You should be able to punch through the tripe with a fork. Cool and cut into cubes. Save cooking water.
Sauce
1/4 cup achiote infused oil (see Sango de camarones recipe)
1 bunch green onions, finely chopped
1 clove garlic, finely chopped
1/2 teaspoon black pepper
Salt, to taste
1/2 teaspoon cumin
2 tablespoons peanut butter
1/2 russet potato, peeled, cubed and cooked
1/2 teaspoon oregano
1 cup milk
Saute onions, garlic, cumin, pepper, salt in oil slowly at least 1/2 hour until sauce is brown being careful not to burn. Add peanut butter and milk. Blend until smooth. Add water from tripe and bring to a boil. Add tripe and potatoes. Add oregano. Simmer until it's thick or desired consistency about 15 to 20 minutes.
Serve over salad of mixed greens with hot sauce on the side (recipe follows).
Ecuadorian hot sauce
1 red aji pepper (can substitute habanero)
1 rocoto pepper (hot roundish-shaped red pepper grown in Ecuador, Peru and Bolivia)
Run through food processor.
1/4 red onion, finely chopped
1 tomato, finely chopped
Juice from 1/2 lemon
Salt, to taste
Mix blended peppers and ingredients together.
Chef/owner William Velasco
El Caserio
Los Angeles, CA
Sango de camarones
(Serves 1)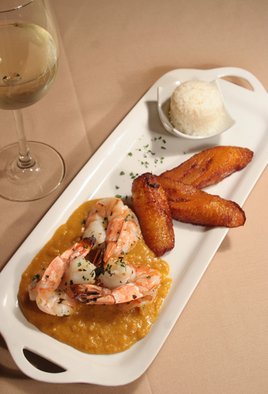 3 large prawns
Oil
Salt and pepper, to taste
Parsley, finely chopped
Run prawns with oil, season and grill until done.
Sauce
1/2 teaspoon cumin
1/2 red onion, chopped
1/2 teaspoon pepper
1/2 green pepper, chopped
1 clove garlic, finely chopped
3 teaspoons achiote infused oil*
2 tablespoons peanut butter
1 green plantain, peeled and cut into chunks
Cook ingredients slowly in oil. Add peanut butter. Blend mixture in blender or use immersion blender. Separately add plantain and water to cover in blender and blend. Add to sauce mixture and cook until thick.
Plantains
1/2 ripe Columbian plantain
Oil, as needed
Deep fry plantains at 350°. Make sure oil is hot so the plantains do not become greasy.
Rice
(Serves 4)
2 cups white long grain rice
1/2 cup corn oil
1/2 brown onion, chopped
4 cups hot water
Rinse rice in water. Drain. Heat oil in pan and simmer onion until it's translucent. Add rice and fry, mixing to coat rice with oil. Add hot water and bring to a boil. Cook until onion floats to the top. Remove onion and stir. Lower heat, cover and cook until water is absorbed about 15-20 minutes.
Serve as shown.
*Achiote seed is a rust colored seed from the annatto plant. The seeds are dried and made into a paste used for color and a sweet, peppery taste. To infuse oil,, heat 1/2 cup corn oil in a small saucepan and add 1 tablespoon achiote seeds or achiote paste over medium-low heat and cook for 3 minutes or so. Cool and strain. Oil will be red.
http://laylita.com/recipes/2007/12/21/achiote-annatto/
Chef/owner William Velasco
El Caserio
Los Angeles, CA
---
This article is the copyrighted property of the writer and Communities @ WashingtonTimes.com. Written permission must be obtained before reprint in online or print media. REPRINTING TWTC CONTENT WITHOUT PERMISSION AND/OR PAYMENT IS THEFT AND PUNISHABLE BY LAW.