Growing up in North Carolina Chef Deborah Scott spent time with her father raking beaches near Cape Hatteras and fishing the Chesapeake Bay for blue crabs, oysters and flounder. Her father, who she considers the inspiration for her culinary abilities, taught her to serve seafood as soon as it was harvested.
Part of the Cohn Restaurant Group Collection in San Diego, Indigo Grill was the first of 4 successful restaurants partnered by the Cohns and Scott. Their partnership began when David and Leslie Cohn stopped by Indigo Grill to try their first meal. Enjoying her food and recognizing her talent, they started a collaboration with which led eventually to the creation of Kemo Sabe, Island Prime and C Level.
Chef Scott brings a substantial educational as well as practical experience. She attended the Baltimore International Culinary Institute and continued studies and the Culinary Institute of America at Hyde Park, New York. She also studied spices and cooking techniques in Oaxaca, Mexico. However, Scott insists she has learned the most from working in kitchens with other chefs. Her presentations are imaginative and fun, her portions generous and flavors bold and delicious.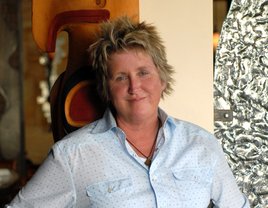 1. What led you to Oaxaca and how long did you live there?
I stayed in Oaxaca for several weeks, and from morning till night I stayed with Suzanne Trilling of the Seasons of My Heart culinary school. We traveled to villages, went into many homes, visited ruins and farmer's markets.

2. When did you open Indigo Grill?
I opened an Indigo Grill in 1994 with my financial partner, George Grotewald. David Cohn, his wife Lesley, and their family were patrons of Indigo Grill. David approached me regarding a partnership with him and Lesley and I left the first Indigo Grill to take advantage of the opportunity.

3. How would you describe the cuisine at Indigo Grill?
The cuisine of Indigo Grill can be described as native offerings from Oaxaca to Alaska. Both the cuisine and the décor of Indigo Grill are a mix of surreal and symmetrical, primitive and refined. I like to say it tells a story as you travel from the Arctic region to the south of Mexico.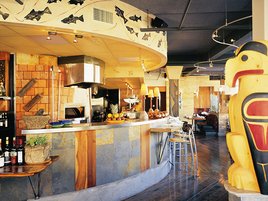 4. In an interview online you said each plate tells a story. Can you give an example from one of your menus?
The Cedar Plank Salmon is a great example. The first experience a guest has with this dish is the smoky, earthy smell that permeates the dining room. This is reminiscent of the aromas from the comals in Oaxaca, used to toast whole spices. The salmon is rubbed -with morita chiles, which have been roasted and ground. The plank also includes squid ink pasta with a cotija cream sauce. Thus, the Alaskan salmon, which is cooked in the Northwest tradition on a cedar plank, is prepared in the Oaxacan fashion, fusing the two regions into one complete composition.

5. What's your favorite item on the Indigo Grill or any of your menus?
The one dish that stands out to me is the Nut Crusted Brie with jalapeño jelly and honey roasted garlic. We feature this dish on every menu, each with a different application. The combination of nuts, spices, chilies, and honey makes this unforgettable dish one that brings guests back time and time again.

6. What dishes are the most popular on the Indigo Grill menu?
The most popular dishes on include the Vera Cruz Maize Tamale and Pipian Crusted Brie appetizers, Alderwood Plank Salmon and Blueberry Laquered Lamb entrées.

7. Can you share an important lesson or tip you teach your cooks?
Cook with all of your senses. Guests first "eat" with their eyes. It is important to make each plate visually pleasing in addition to full of flavor.

8. How do you spend your work day? Do you work just one restaurant a night or move around between the four?
I definitely move around. I find it most effective to visit each of our restaurants any given night. The idea is to touch as many guests as possible.

9. What's the best thing about running 4 successful restaurants? What's most challenging?
The guests are always the most rewarding part of this profession. Consistency is the toughest part of running any restaurant.

10. What inspires you to create a new dish? A cookbook, magazine, dining out somewhere?
What usually catches my eye is a specific ingredient that I may not be familiar with or am reintroduced to through a cookbook, dining experience, or conversation with guests or another chef.

11. Have you modified any of your purchasing to become more sustainable or organic or local? In what ways?
We use local farms for most of our produce. We are also very conscious of endangered species, and with the aid of our purveyors we are able to avoid these species.

12. What chef would you like to cook for you?
My dad. He is my inspiration and the root of my culinary abilities. We spent many summers fishing the Chesapeake Bay and cooking blue crab, oysters, clams, and flounder on an open fire pit at the beach.

13. What do you do on days off?
Spend time with my partner, Sharon Bristol, as well as my two basset hounds, two parrots, and friends. We visit open houses on Sundays. We enjoy looking at interior design and the ever-changing real estate market.

Indigo Grill
1536 India St.
San Diego, CA 92101
619-234-6802
www.cohnrestaurants.com
---
This article is the copyrighted property of the writer and Communities @ WashingtonTimes.com. Written permission must be obtained before reprint in online or print media. REPRINTING TWTC CONTENT WITHOUT PERMISSION AND/OR PAYMENT IS THEFT AND PUNISHABLE BY LAW.