"Jose's style is a little different from what people expect. It's not a protein, starch and veg. It might be seared snapper with Vera Cruz sauce and just a few tortilla chips. We have to teach people how to eat. But we're made the move and people are getting it," said Chef de Cuisine Jorge Chicas about the food at Bazaar.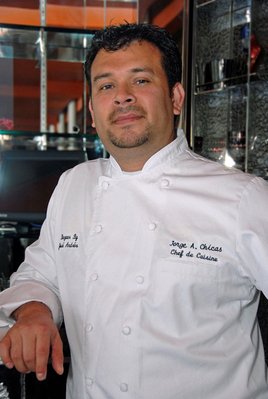 Chef Jorge collaborates with Spanish Chef José Andres to create traditional and modern tapas for the Bazaar by José Andres at the SLS Hotel in Los Angeles. José is noted for bringing Spanish food to Washington, DC and now owns 7 restaurants in the capital including Zaytinya where Chef Jorge started working for him. That restaurant's menu featured mezze (small dishes) from Turkey, Lebanon and Greece. One dish on Bazaar's menu, Ottoman Carrot Fritters, has its origins in Turkey (see photo/recipe). However Bazaar features a blend of traditional Spanish tapas and modern tapas. Small portions mean more chances to try more of his amazing, captivating dishes. Even so, the list of must-tastes is long enough for several visits.
The hotel itself is a playful mix of styles and decoration. Near the light-filled lobby is a dark retail area with more glass-enclosed items for sale such as a model of the Titanic, signature china and T-shirts. Nearby is the patisserie with exquisite sweets and desserts. The overall effect of the lobby/retail area is a bit overwhelming and sort of a dark version of Istanbul's Grand Bazaar.
Bar Centro houses a glass-enclosed Swarovski sculpture that sparkles in the dimly lit space. A long, black communal table in runs black and white movies in smallish screens just under the surface.
To the other side of the bar is the restaurant divided into Blanca (contemporary) and Rojo (traditional). Blanco has white cushy chairs and banquets while Rojo diners sit on black benches and tables with chalkboard-like reproductions of Picasso drawings.
Chef Jorge explained that all the tapas are available in both restaurants. The chef de cuisine moved with his family from El Salvador to Washington, DC when he was 13. He worked in various kitchens in the area and was executive chef/partner in Capital Restaurant Concepts before joining José Andres.
"I worked with José in Washington and Las Vegas doing culinary but also F& B work doing a budget for small wares and purchasing china and other kitchen utensils," he said. He did menu costing and worked with Phillipe Stark on the SLS in Los Angeles. For a while he traveled back and forth, but has now settled in the area with his wife and 4 children.
"Jose visits once a month and stays 3 or 4 days to see how things are going. The menu may get changed. When he comes he may have a vision or some new ingredient from somewhere," Jorge said. The chef de cuisine and his cooks then spend some time working out some dishes that José approves or not on his next visit.
"We spent time in Mexico and Italy. You can pick up new ideas from everywhere," Jorge said. José has taken him on trips to Lebanon and Turkey as well as Spain of course. "You learn over time what goes with what and develop a good palate."
Jorge works a 6-day week with long hours and clearly enjoys the challenge of working at a top-notch luxury property. "The kids know the routine, when an opening happens they don't see me as much," he said. He has to be at work to make sure everything runs smoothly and consistently.
The hotel and restaurant flourish with no visible signs of recession.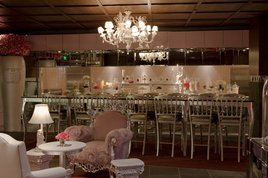 Marcel Vigneron from Top Chef Season 3 is currently working in Bazaar as sous chef. "I've been here since the beginning," he said. He keeps up with several competitors from various seasons and cooked with several on demos.
In the original concept, SLS stood for Starwood Luxury Services, but as the hotel has evolved SLS embodies many meanings describing the hotel and therefore does not stand for anything specific. For example: "something lovely started", "small luxurious sweets" or "soothing lonely starlets". "Sip liquids slowly" is found on coffee cups and "sparing land's supplies" on hotel environmental policies. "Somebody loves slogans," wrote Fred A. Bernstein in his New York Times review Check In/Check Out.
Traditional Tapas
Gazpacho estilo Algeciras, traditional gazpacho $5
Sauteed wild mushrooms, hazelnut praline $10
Stuffed piquillo peppers, goat cheese $9
Pa'amb tomaquet Catalan style toasted bread, Manchego, tomato $8
Buñuelos codfish fritter, honey alioli $8
Braised veal cheeks $12
Sea urchin pipirrana, andalusian vegetables $14
Jamon Ibérico $26
Modern Tapas
Cotton candy foie gras $5
Not your everyday Caprese, cherry tomatoes, liquid mozzarella $12
Organized arugula, raspberries, corn, Cabrales blue cheese $9
Sauteed cauliflower "couscous" cauliflower puree, harissa, lemon, fried quinoa $8
Oven roasted Cipolini onions, clementines, passion fruit, pumpkin seed oil $8
Miso "linguini", Tomato, lemon, smoked trout roe $10
American caviar, crème fraîche, blinis $10
Patisserie Dessert
Nitro Coconut Floating Island with passion fruit and vanilla $10
Beet Meringue with pistachios and berries $10
Traditional Spanish flan with vanilla and fruit $10
SLS at Beverly Hills
465 South La Cienega Blvd.
Los Angeles, CA 90048
310-246-5555
---
This article is the copyrighted property of the writer and Communities @ WashingtonTimes.com. Written permission must be obtained before reprint in online or print media. REPRINTING TWTC CONTENT WITHOUT PERMISSION AND/OR PAYMENT IS THEFT AND PUNISHABLE BY LAW.