WASHINGTON, November 19, 2013 — If you're at Gaylord National Resort on the Potomac River now through January 5, Christmas is still Christmas.
Christmas isn't mentioned much anymore in our culture, and there are even fewer reminders about the true meaning of the season. But visit the resort for its sixth Christmas on the Potomac event, and you, your children, and anyone who cherishes the season will find welcome and delight amid the seasonal sounds and visual wonders.
This year's artistic colored ICE! display features the perennial poem, 'Twas the Night Before Christmas. Multiple rooms in the nine-degree, wow-filled environment (don't worry you get padded parkas for the stroll) lead guests through rooms of cool displays that depict the poem.
There are scenes of kids snuggled in their beds; Santa and his reindeer; sleeping mice amid teacups, and this year, a bonus of New York City Christmas-themed scenes from Rockefeller Center.
ICE! icy slides are so popular with the youngsters that many don't want to leave the thrills and spills for what's ahead of it.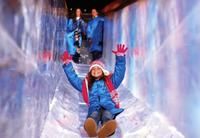 The finale is a clear, sparkling nativity sculpture that reminds visitors of the real meaning for the season. The angel Gabriel faces the scene.
Constructed from more than two million pounds of frozen liquid, ICE! was hand-carved by professional sculptors from Harbin, China. Entry prices begin at $27 for guests 12 years and older; $19 for ages 3 to 11; and free for children two years old and younger.
Outside of ICE!, and within other spaces at Gaylord National Resort, kids and their companions find more to love. Each evening at 6 and 8 p.m., the multi-story atrium with big windows on the river comes alive with the lighting of the 70-foot hanging glass Christmas tree, dancing water fountains, and indoor snowfall – all choreographed to contemporary and classical Christmas music. This show is free.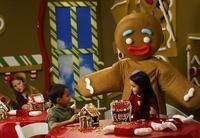 Other Christmas on the Potomac kid activities include gingerbread house decorating, rides on a train in the atrium, and a scavenger hunt. Several dining options can precede or round out the entertainment experiences.
Besides the resort's several restaurants, there are Sunday brunches with Santa December 8, 15 and 22 in the Gaylord's spectacular 18th floor POSE lounge where DC monuments are visible down river under clear skies. The brunch's dessert lineup will have you re-negotiating the agreement you made with yourself about a low calorie season.
Check the resort website for prices and overnight packages.
---
This article is the copyrighted property of the writer and Communities @ WashingtonTimes.com. Written permission must be obtained before reprint in online or print media. REPRINTING TWTC CONTENT WITHOUT PERMISSION AND/OR PAYMENT IS THEFT AND PUNISHABLE BY LAW.