First performance of the four centuries-old Passion Play is on May 15 in one of Bavaria's most charming village settings, Oberammergau. Preparations are on the fast track for this, the 41st edition of a gratitude tradition – thanks for survival of plague, poverty and war - that began in 1633 and occurs every ten years. Last performance is scheduled for October 3rd.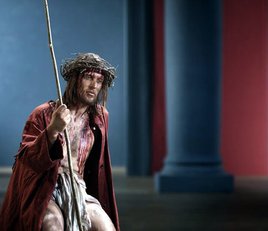 Most of this Bavarian village, about 2,000 people, participate in the play, from costume making to acting the various character roles. Music is important to the production, and both an orchestra and choir provide it. This year's youngest instrumentalist will be a nine year-old violinist.
Villagers who play the characters are growing their beards and hair. Playing Jesus is Andreas Richter, age 33. He was born in Oberammergau and had his first play performance in a crowd scene at age three. His other roles apart from the play are professional psychologist, passionate skier and kite surfer.
Annas is Peter Stuckl, age 66 and father of Christian Stuckl, the principal play director. Peter began performing in the 1960 edition as a chorister, and later played Judas and Ciaphas the High Priest. In real life, he owns Hotel Rose and manages several holiday apartments in the village.
Travelers who see one of this year's 100 play performances in the purpose-built outdoor theater will be surrounded by the Ammergauer Alps, lush meadows and foothills only about an hour's drive south of Munich.
What Else: Many 2010 faith travelers are combining the Passion Play experience with tours of German sites associated with The Protestant Reformation – such as Wittenberg, Dresden and Leipzig. Major tour operators with itineraries include Globus Faith, Collette, Reformation Tours, and Trafalgar.
Bavaria is the land of mind-bending scenery and culture. Hiking, biking, and charming villages with modern accommodations, spas and cuisine are among the options as well as King Ludwig's world-famous 19th century castles. Check resources at www.bavaria.by; www.cometogermany.com; and www.oberammergau-passion.com.
---
This article is the copyrighted property of the writer and Communities @ WashingtonTimes.com. Written permission must be obtained before reprint in online or print media. REPRINTING TWTC CONTENT WITHOUT PERMISSION AND/OR PAYMENT IS THEFT AND PUNISHABLE BY LAW.