By C D Ledbetter

Competition today is both fierce and global. The old adage of "working smarter, not harder" takes on new meaning as communities struggle to devise workable strategies that sustain businesses already in place, encourage the growth of new enterprises, and—at the same time—keep rising costs and shrinking budgets under control. It is, to say the least, a daunting task.

Today, more than ever, communication is vital to growth and survival. In a strange way, the economic downturn did one good thing: it brought about, albeit through necessity, a revival of community spirit and awareness, and today that awareness is the rule, not the exception.

Social, religious and racial divides disappear as individuals of every age, race, religion and social background work side-by-side in community meetings, groups, church organizations, etc. to identify challenges and devise strategies for success. It's as if we suddenly realize that this is "our fight" and we're taking it personally. Failure is not an option because we are fighting for survival.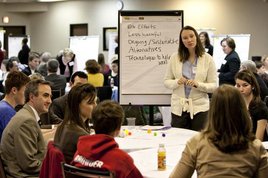 Southern Growth Policies Board (Southern Growth), based in North Carolina, is a regional forum for raising awareness about community challenges and opportunities in the changing economic and cultural environment of the South. Formed in 1971 by the region's governors, one of its goals is to strengthen the South's economy and increase the quality of life for Southerners by developing and advancing economic development policy recommendations.

Since 2001, Southern Growth has charted a listening process, which has as its centerpiece a series of deliberative forums in communities all across the South. Each year, the conversation centers around a particular issue related to economic development. There are three parts to the "Listening to the South" process:

1. Community-level forums
2. State policy dialogues where Southern Growth Policies Board shares the results of the community forums and talks about state policy implications
3. An online survey which provides an opportunity for those who can't come to an in-person meeting to offer their ideas

These items feed into an annual Report on the Future of the South, which is a policy report designed to spur regional action.

In 2009, more than 2,300 Southerners participated in community forums, state policy dialogues and surveys to share their thoughts and opinions on how communities could best take advantage of the economic opportunities associated with energy. Since 2001, more than 11,000 citizens have gathered in 560 forums to talk about community economic development issues.
This year, discussions center on how communities can respond to current economic challenges — ranging from job losses to home foreclosures to government cutbacks — while at the same time positioning themselves for success in the future. One surprising result of these forums is that, when Southern Growth Policies Board first started doing this, a lot of people would say: "This is the first time that anyone has ever asked my opinion about anything in the community."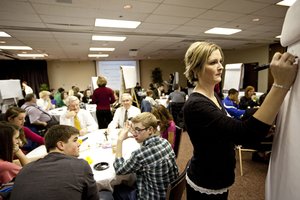 In 2008, when the forums focused on young people and their engagement in communities, adults expressed surprise that young people were often thinking the same things they were, and the adults were excited about youth's enthusiasm about doing something in the community. And, for their part, young people were surprised that adults listened to their ideas and opinions. Everyone that participated came away with a greater appreciation of the role that youth can play in building a stronger community, and with ideas for making that happen in their own communities.

These forums are applicable to communities everywhere, not just in the South. They can be a tool for individuals to galvanize action in their own community. Forum participants often noted that the forums led to new networks, a better understanding of the issue, and the start of serious thinking about a community's future.
So, how do you hold a community forum? It's simple: You invite the group and Southern Growth provides the materials for a two-hour discussion. Civic clubs, chamber groups, and leadership classes can provide the audience, or create your own. A typical forum audience is between 10 and 30 citizens, and almost anyone can run a forum using a moderator's guide and discussion guides for citizen participants. For general or logistical questions, contact Paula Baker at pbaker@southern.org, and to get specific information about how to plan or moderate a community forum, contact Linda Hoke at lhoke@southern.org.

What happens, though, after the conversations end and the forums are complete? Success! In the case of a youth forum in Galax, Virginia, participants took action to create a regional youth council. In February 2008, approximately 60 young people participated in a youth forum sponsored by Southern Growth in partnership with the Crossroads Institute and the Virginia Cooperative Extension. Community involvement with youth is ongoing, including establishment of downtown spots for youth and youth entrepreneurial events.

When people, groups, businesses and communities work cooperatively to solve common problems, great things happen and communities thrive. Participation, dialogue and "smart" decisions become the cornerstone for economic viability. And, when you factor in participation and enthusiasm from the next generation, communities not only thrive today, they lay the foundation for tomorrow's success.

The Southern Growth Policies Board is just one example of how, when people team up for success, anything is possible.
A native of Louisiana, Carla Ledbetter now lives in Alexandria, LA, where she works as the Director of Web Content for Cenla Advantage Partnership, a nonprofit organization, funded in part by The Rapides Foundation, dedicated to building prosperity in Central Louisiana. The author of three published suspense novels, she is currently working on her latest book, and can be found on Twitter, Facebook, Blogspot and LinkedIn
---
This article is the copyrighted property of the writer and Communities @ WashingtonTimes.com. Written permission must be obtained before reprint in online or print media. REPRINTING TWTC CONTENT WITHOUT PERMISSION AND/OR PAYMENT IS THEFT AND PUNISHABLE BY LAW.