This is something that my engineers and I have been working on for a very long time. It's called an Obama Truth-O-Meter. As you can imagine, it's quite complex based on a sophisticated (and proprietary) algorithm that addresses the unfortunate dilemma: how can you tell when a President of the United States (or his legal representative) is lying. Had we had this in the 1970s, we could have saved ourselves and the country all that Watergate who-hah.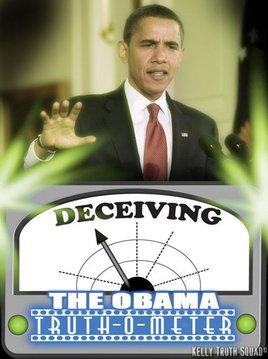 The Obama Truth-O-Meter readings can be quite helpful. For instance, it can scan for "truth," "gibberish," "hypocrite, "balderdash," "total lie," "cover-up," and "impeachable offense." I mean, you can see how helpful this would be, right? When President Obama said during the healthcare debate that, under his plan, Americans could keep the healthcare coverage of their choice, we could have put the Obama Truth-O-Meter to work. Think about the possibilities. The opportunities. What would it have said?
What about last year when President Obama said that his $787 billion stimulus "has worked as intended" or about the Gulf oil spill this week when he said, "From the moment this disaster began, the federal government has been in charge of the response effort?" Now, let me be clear, I did do some preliminary testing on the Obama Truth-O-Meter during this time – but it was in its prototype stage. I have to say President Obama's readings were just not very good. I got readings like "Calculating," "Two-Faced," "Phony Baloney," and "Saul Alinsky-style Half Truth." Interesting, huh?
Moreover, I also did some final testing on the Truth-O-Meter when the Mexico's President Calderon made his infamous speech knocking America for its history of discrimination and record on human rights. (Cough) For some strange reason, the Truth-O-Meter machine went berserko, furious steam spurted forth, springs popped out from all directions and I had a cataclysmic oil spill of my own. I can't say that it was pretty. And the clean-up? Well, I didn't call-in BP, that's for sure. It took some time to repair but we are now up and running again. And my timing could not have been better with the controversy surrounding Rep. Joe Sestak.
For an accurate reading, it will be necessary to do a reading on President Obama, White House Chief of Staff Rahm Emanuel, and Rep. Joe Sestak himself. Even without the Obama Truth-O-Meter's reading though, common sense tells you something is pretty fishy here.
So, what does your own personal Obama Truth-O-Meter tell you?
Here are the facts:
Beginning on February 18, 2010, Rep. Sestak had said publicly a number of times that he was offered a high ranking federal job in exchange for dropping out of the primary race against Pennsylvania's very own Sen. Arlen "Guess My Party" Specter. The disclosure occurred during a news program with veteran broadcaster, Larry Kane.
"Were you ever offered a federal job to get out of this race?" Kane asked
"Yes," Sestak replied.
"Was it the Navy secretary?"
"No comment," said Sestak. "I would never get out for a deal. I'm in this for the Democratic principles."
"OK," said Kane. "But was there a job offered you by the White House?"
"Yes," said Sestak
The claim that the position being offered was Secretary of the Navy makes sense since Sestak is a former three-star Vice Admiral with thirty years of naval experience. Since then, the White House's Robert Gibbs has been in a cat and mouse game of media deflection:
On February 23:
"I have seen some stuff that (Sestak) said, but I have not looked into this," said White House Press Secretary Robert Gibbs.
On March 1:
"I have not made any progress on that," said Gibbs. "I was remiss on this and I apologize. … Let me check into that."
After questions continued to surface, Rep. Darryl Issa, R-Calif., made an inquiry to White House Counsel Robert Bauer but Obama Administration officials were still evasive.
On March 11:
"I don't have anything additional on that," said Gibbs at a press briefing. "Are you ever going to have anything additional on that?" reporters asked him.
"I don't have it today," said Gibbs.
On March 12:
"I don't have any more information on that," said Gibbs.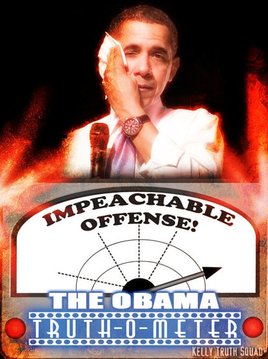 Finally, on March 16, Gibbs confirmed that someone in the administration had a "conversation" with Sestak but denied any wrongdoing. "I've talked to several people in the White House," said Gibbs. "I've talked to people that have talked to others in the White House. I'm told that whatever conversations have been had are not problematic. Whatever happened is in the past."
Then, yesterday at his first press conference in months, President Barack "Transparency" Obama again reiterated, "I can assure the public that nothing improper took place."
Today, it is being reported that White House Chief of Staff Rahm Emanuel asked former President Bill "Impeachment Expert" Clinton to be an emissary to dangle some carrots in front of Sestak. The new story is that the offer was an unpaid advisory position. It's a good story that has probably been ferreted out by all the White House lawyers. After all, White House Press Secretary Robert Gibbs has not had a good answer for months on this issue. They've had some time to try and figure this out, huh? However, even here, they didn't do a very good job.
Sestak clearly said high ranking federal job. Last time, I checked, a high ranking federal job was a paid position, not an unpaid advisory one. If this bears out, it would constitute a bribe under the statute and make the offerer guilty of a federal crime and President Obama on the hook for an impeachable offense.The Obama Truth-O-Meter's preliminary reading so far? Deep do-do.
Conservative satirist and commentator William J. Kelly also pens the Kelly Truth Squad at Chicago Now and edits the Tea Party Reports for the Washington Times. You can also follow him on Facebook and Twitter! Email questions to him at williamjkellyrebuild@gmail.com.
---
This article is the copyrighted property of the writer and Communities @ WashingtonTimes.com. Written permission must be obtained before reprint in online or print media. REPRINTING TWTC CONTENT WITHOUT PERMISSION AND/OR PAYMENT IS THEFT AND PUNISHABLE BY LAW.