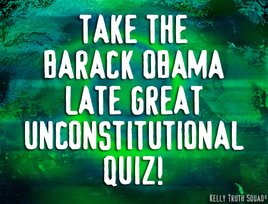 Just recently, on behalf of the Kelly Truth Squad, I was given the unique opportunity to quiz President Barack Obama. It isn't the kind of thing that happens very often so I knew I needed to make it count. With that in mind, I had my dedicated team of creatives, policy wonks, scholars, ivory tower elites, and Michigan automotive specialists set to work on developing a test fit for a king – er, I mean a President.
Jointly, we decided that a little quiz on American history would be ideal. (I also decided to add some really fun impeachment questions in case the President needed a refresher course). And voila! There it was - a piece of history in the making on my desktop. I couldn't wait to give it to him. So, without further adieu, see if you can outguess the President on his answers to Barack Obama's Late Great Unconstitutional and Impeachable Offense Quiz (with Commentary!) – part 1 of a multi-part quiz series.
The correct answers are at the end of the quiz. Enjoy!
1. Who was the only Founding Father to sign the Declaration of Independence on July 4, 1776?
A. Abraham Lincoln
B. Rep. Joe Sestak of Pennsylvania
C. John Hancock
D. Benjamin Franklin
President Obama's answer: A. Abraham Lincoln.
Inside Barack's head: Hmm…I can't say Rep. Joe Sestak. The dude burned me and Rahm on this job offer we made him to be Secretary of the Navy in exchange for getting out of the Pennsylvania race. Boy, was Arlen mad. Whew! Consequently, it would not be politically advantageous to name him a Founding Father. It would only draw attention into this bribe-lie-impeachment thingy. So, what to do? Since the American people really like Abraham Lincoln and he freed the slaves, my Left wing friends will be happy with this answer. Who gives a hoot about dead ole' white guys anyway? My answer has to be A. Abraham Lincoln.
2. This Founding Father had a theory about colds and bathed his feet every morning in cold water to prevent them. Who was it?
A. George Washington
B. Mao Tse-Tung
C. Thomas Jefferson
D. BP Chief Executive Tony Hayward
President Obama's answer: B. Mao Tse-Tung.
Inside Barack's head: Mmmm…this is a tough one. Why is Tony Hayward one of the choices? Are they trying to trick me? It's not that I don't like Tony. I do. I'm not really mad about this oil spill stuff. As Rahm is fond of saying, "Never waste a good crisis," and I'm not. Shutting down offshore oil drilling in the Gulf – it's a dream come true. I couldn't have planned this tragedy better myself. But Tony's British – so he's out. Then there's George Washington – I never liked that guy. Seeing him on the dollar bill all the time – it's just annoying. So, forget that one. Now, Mao. That's an interesting choice. He's Asian so we get that diversity element going. Then there's the $1-2 trillion in debt we owe the Chinese and the fact that we want them to buy even more. Wow, too bad the Soviets didn't think of buying American debt during the Cold War. That's the Communist ticket, baby. Take note. Better make it Mao. My answer is B. Mao Tse-Tung.
3. Complete this statement. To impeach a sitting President of the United States of America you need:
A. Former President Clinton to help concoct an unfeasible story on Rep. Sestak.
B. A simple majority of both houses of Congress
C. I can't be impeached. I'm Barack Obama.
D. Simple majority in the House, two-thirds majority in the Senate to convict
President Obama's answer: C. I can't be impeached. I'm Barack Obama.
Inside Barack's head: Getting Bill Clinton involved – what a stroke of genius. He's already been impeached once and now he's not even President. No one is gonna touch him. It's the old bait and switch. But now there's this Romanoff guy. All he had to do was take the job and shut up. Rahm better figure this out. You know, people make things so difficult which is why the Government should control everything. Think how happy we would be. That is why no one is gonna impeach me. I'm the One. I'll make your entitlement dreams come true. And, in the off chance that they do try to impeach me, we'll just use reconciliation to bypass the Constitution. It certainly worked with healthcare reform. My answer is C. I can't be impeached. I'm Barack Obama.
4. This Founding Father's physician tried to resurrect him from the dead by using a transfusion of sheep's blood. Who was it?
A. George Washington
B. Thomas Jefferson
C. George Orwell
D. Thomas Paine
President Barack Obama's answer: George Orwell.
Inside Barack's head: I can't believe there is another George Washington question on this exam. Talk about the lack of diversity. It doesn't get any worse than a white guy with a wig. Put him next to Thomas Jefferson and Thomas Paine and you couldn't tell 'em apart. That is why I am against Arizona's attempt to protect its own borders. Governor Brewer takes it too personally. I could care less what the law actually says. I say open the borders, flood the country with illegal visitors, grant amnesty, and let our labors bear fruit at the voting booth. If we had amnesty, we'd make sure there'd never be a powdered wig ever seen again. We'd have more terrorists voting too. Why discriminate? They'd be so grateful, our party would be perfectly positioned for electoral success. Think of it. Spreading the wealth. No more capitalism. Get rid of the textbooks. Rewrite history. Fairness. To each according to his needs. Total equality. We'd make sure. We'd watch. We'd decide. We'd enforce. My answer is C. George Orwell. His book, "1984," gave me a lot of good ideas. I figure I owe him one.
ANSWERS TO BARACK OBAMA'S LATE GREAT UNCONSTITUTIONAL AND IMPEACHABLE OFFENSE QUIZ – PART 1.
1. C; 2. C; 3. D; 4. A.
Part II of Barack Obama's Late Great Unconstitutional and Impeachable Offense Quiz coming soon!!
Conservative satirist and commentator William J. Kelly also pens the Kelly Truth Squad at Chicago Now and edits the Tea Party Reports for the Washington Times. Email questions to him at williamjkellyrebuild@gmail.com.
Find him on Facebook/Williamjpkelly
Follow him on Twitter/williamjkelly
---
This article is the copyrighted property of the writer and Communities @ WashingtonTimes.com. Written permission must be obtained before reprint in online or print media. REPRINTING TWTC CONTENT WITHOUT PERMISSION AND/OR PAYMENT IS THEFT AND PUNISHABLE BY LAW.