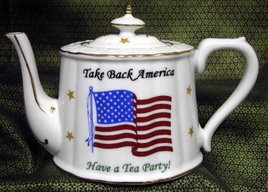 If you've been to Foxnews.com and tried out their handy tax calculator, you now know your share of the TARP, President Obama's stimulus, and for the bailout of Freddie Mac and Fannie Mae. Since Thursday, April 15th is Tax Day, you've also probably been to your accountant, paid him or her, and shelled out more cash to the federal government - just so they can apparently turn around and spend it on turtle crossings, skateboard parks, and, let us not forget, congressional salaries and pension plans. Don't bother asking, where's yours? Just turn around and bend over.
Don't bother asking how they could have misspent your money and run up a $13 trillion deficit. Don't bother asking how they can dare float the idea of a European-style VAT tax. And don't bother asking why they ignored the American people and voted in their socialized healthcare reform. Don't even get mad. Get even!
Here is a partial list of the torrent of Tea Party rallies planned for across the United States of America. (I'll be speaking at the OFFICIAL CHICAGO TEA PARTY.) It is a Tea Party Nation, indivisible, under God, with liberty and justice for all. For the full list and to find out where you can have your voice be heard, visit http://www.teapartypatriots.org/Search.aspx
Good luck, Tea Partiers and God Speed!
ALASKA
Anchorage
Tax Day TEA party
1200 noon - 2:00pm
Federal Building
ARIZONA
Tucson Tea Party 2nd Tax Day Tea Party
10 am
El Presidio Park
ARKANSAS
Tax Day Tea Party 2010 - Little Rock
3:45pm to 6pm
Litte Rock - State Capitol Building
CALIFORNIA
San Francisco Tea Party
4:00 pm until 7 pm
Union Square, San Francisco
FLORIDA
Fort Lauderdale Tea Party
5PM - 7PM
In front of the Federal Building 299 Broward
GEORGIA
The American Tax Revolt Tea Party
12 Noon to 3PM
Centennial Olympic Park at CNN Worldwide Headquarters
HAWAII
Honolulu
Hawaii Tax Day TEA Party
Time 1pm - 7pm
Beretania St, State Capitol
ILLINOIS
Official Chicago Tax Day Tea Party
12:00 p.m. - 1:30 p.m.
Downtown Chicago - Daley Plaza
Palatine TEA Rally
3:00pm-6:30pm
Volunteer Plaza in Palatine, Illinois
INDIANA
Indianapolis
Tax Day Tea Party - April 15, 2010
3:00 - 6:30 p.m. EST
Indiana Statehouse
LOUISIANA
Baton Rouge
Still TEA'd Tax Day Rally
5pm to 7pm
The Louisiana State Capitol Building in Baton Rouge
MASSACHUSETTS
Tax Day TeaParty @ Barney Frank's Office
10AM to 1PM
Outside Barney Frank's North Boston Office
MINNESOTA
St. Paul Tax Day Tea Party
12;00-9pm
State Capitol and Kelley Inn
NEVADA
LAS VEGAS - TAX DAY TEA PARTY
3PM - 5PM
Las Vegas, Nevada Sunset Park
NEW HAMPSHIRE
Manchester,N.H.Tax Day Tea Party
5:30PM to Dusk
Manchester Victory Park
NEW JERSEY
Trenton Tea Party Rally
11:00-4:00 PM
Trenton New Jersey State House
NEW YORK
Tax Day Rally
5-7pm
New York New City Courthouse
OHIO
Tea Party Tax Day Rally
5:30 p.m. - 8:30 p.m.
Columbus, Ohio State House West Lawn
PENNSYLVANIA
Philadelphia Tea Party Patriots Tax Day Tea Party
12:00pm to 2:00 pm
Philadelphia Pennsylvania Love Park
TEXAS
Houston Tax Day Tea Party
6:00 pm -8:00 pm
Sam Houston Race Park
VIRGINIA/WASHINGTON DC
2010 Tax Day Tea Party - Washington Monument
6:00 pm/9:30 pm
Washington, D.C. Virginia Washington Monument
---
This article is the copyrighted property of the writer and Communities @ WashingtonTimes.com. Written permission must be obtained before reprint in online or print media. REPRINTING TWTC CONTENT WITHOUT PERMISSION AND/OR PAYMENT IS THEFT AND PUNISHABLE BY LAW.