The Odds and Evens phenomenon is clearly not the best indicator of success. It is a quirk, an easy, often unpredictable method of determining up years and down years. Even if a player starts his career in such a pattern, odds are he'll break out of it. Bottom Line: It doesn't exist that often. The most famous man to have gone against these odds, was Royals and Mets ace pitcher Brett Saberhagen.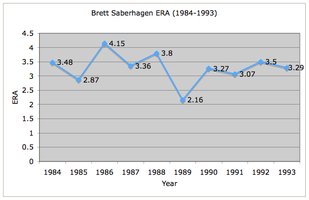 For a period of 10 years at the beginning of his career, Saberhagen sported an extreme example of the Odd/Even phenomenon. In even years (1984, 1986, 1988, 1990, 1992) his ERA was a respectable 3.68 But in odd years (1985, 1987, 1989, 1991, 1993), his ERA was a fantastic 2.91. After these 10 years, Saberhagen, whose career lasted until 2001, broke out of this pattern, aided by a fantastic strike-shortened 1994 season, in which he walked only 13 batters in 177 innings. What does this have to do with current baseball?
Enter Josh Beckett, Red Sox ace, slated to be paid approximately $12 million in 2010. Beckett's contract has been a boon for the Red Sox, he's produced 73 million dollars of value, according to FanGraphs.com , while being paid only 26 million dollars.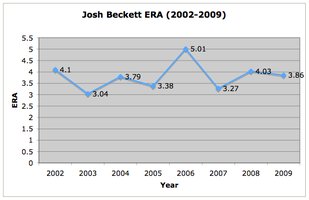 Throughout his entire career, Beckett has exhibited an even stronger case of Odd/Even years, tallying a pedestrian ERA of 4.29 in even years, and a solid mark of 3.42 in odd years. Red Sox fans better hope that Beckett breaks his pattern this year, or they'll be paying their "ace" to struggle, not carry them to the pennant.
Cover photo by: Wigstruck
---
This article is the copyrighted property of the writer and Communities @ WashingtonTimes.com. Written permission must be obtained before reprint in online or print media. REPRINTING TWTC CONTENT WITHOUT PERMISSION AND/OR PAYMENT IS THEFT AND PUNISHABLE BY LAW.