·Braves sign LHP Billy Wagner and RHP Takashi Saito
Way to revamp the 'pen, Frank Wren. (Hey I just wrote a ryhme!). With LHP Mike Gonzalez, and RHP Rafael Soriano sure to leave via free agency, the Braves brought in two quality veteran relievers.
Wagner will tentatively close in 2010. He's not worth $7 million; but no reliever is worth more than a couple million bucks, thanks to playing time.
Wagner is the symbol of the top-quality relief pitcher. He rarely walks a batter (3.0 K/9). He strikes out a ton of batters (11.8 K/9). He's injury prone; but his 2.39 ERA, 182 ERA+, and 1.01 (!) WHIP more than make up for that. In short, even more so with Saito as insurance, it's a risk worth taking for the Braves, who are now a bat away from challenging the Phillies in the NL East.
Saito will be 40 when the '10 season starts, but he's been a strong closer with LA, and a top-notch setup man with the BoSox throughout his four seasons in the majors. For those that say that he's been steadily regressed since his 2007 season; after a 1.40 ERA, 0.72 WHIP, 317 ERA+, season, you have nowhere to go but down.
He hasn't fallen far, though. As a setup man for Boston he posted a 2.43 ERA, 1.35 WHIP, and a 193 ERA+, tossing 55.2 innings. as the bridge to Jonathan Papelbon. Even as his walks go up, and his strikeouts down, Saito's still an excellent pickup for Atlanta.
·Cubs trade 4C/C Jake Fox, UT Aaron Miles, and $1 million to the Athletics for RHP Jeff Gray, RHP Ronny Morla, and LF Matthew Spencer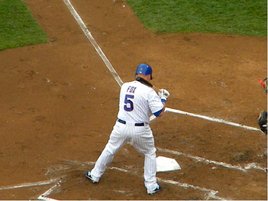 I'm torn over whether selling high on Fox was a good move for the Cubs.
Miles means nothing, a bad defender, horrid hitter, brougt aboard as a UT on a two-year deal. The Cubs packaged him with Fox to dump salary, I wouldn't be surprised if the A's released Miles outright.
Fox is an intriguing player. He got a cup of coffee in 2007, but lost any chance he had at becoming a major league regular when the Cubs started shuffling around the minor league diamond. He started out as a catcher, was move to first base, then to left field, right field, and third base.
What the A's see in this 27 year-old utility man is his tantalizing power. Fox started to recognize it in '09, when he homered 11 times in 241 plate appearances. His problem is patience. His ceiling has always been as a "Three Outcomes Hitter", but right now, he'll just be replacing Jack Cust. Jack Cust-walks-dollars=Jake Fox.
Ronny Morla is a typical power arm. He strikes out a lot of hitters, doesn't give up many hits, and has undetermined durability. Morla has an excuse, he's being shuttled between the 'pen and the rotation, but the Cubs should make a decision soon. He doesn't walk a lot of batters, and if his BABIP regresses to normal, he should be a fourth-starter type. Or a shut-down reliever. Take your pick,
Spencer is a power bat corner outfielder. Doesn't walk a lot, K's could be a problem, but no matter what, he'll be in the big leagues in 2011, mark my words. Or don't, as I have an alarming tendency to be wrong.
Gray is a long-ball prone, control pitcher, middle reliever. He could be a useful piece in the bullpen, but he was expendable.
·Mariners sign Chone Figgins
I don't want to be jumping the gun here, only a preliminary agreement has been reached, but when a player's former team admits that he's gone to a division rival, it's a pretty good sign.
If this is finalized, great signing by the Mariners. Yes, Seattle needs a power bat, but Figgins at $9 million per year to leadoff, and get on base 40% of the time isn't so shabby either. Figgins is a lightningbolt on the basepaths. His stolen base totals over the past four years, 52, 41, 34. 42. Obviously his speed will decline as he grows older, but his stolen bases probably won't descend below 30 until the final season of his four-year deal.
He has no power. None period. He's a speedy third baseman who can also play second base, and center field. He's a great fit for Seattle.
If Figgins ever comes to the NL, the Rockies will continue to rue the day that they traded him for 19 plate appearances of Kimera Bartee.
·Mark Derosa wants $9 million per year, Adrian Beltre $10 million per
Beltre I can understand. He's a Gold Glove third basemen with generally dependable 25 HR power. (Face it, Safeco sucks away everyone's power). He won't get as much as he want's but one could make a case for his demanded salary.
Derosa I can't understand. though. After three successful seasons playing in a pair of bandboxes, he regressed to being league-average Mark Derosa. Yes, he can hit 20 homeruns, albeit no getting on-base. But since when does a thirty-five year-old third baseman get three-years, $27 million? Never. Never. And did I mention never?
Cover Photo by: seamusiv
Photos by: ttarasiuk (Fox)
---
This article is the copyrighted property of the writer and Communities @ WashingtonTimes.com. Written permission must be obtained before reprint in online or print media. REPRINTING TWTC CONTENT WITHOUT PERMISSION AND/OR PAYMENT IS THEFT AND PUNISHABLE BY LAW.