An octopus has doomed Germany's chances in this afternoon's semi-final match versus Spain.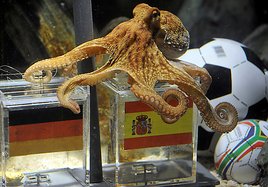 The internationally renown prognosticating cephalopod – his loyal followers call him "Paul" – gave Die Mannschaft the proverbial axe yesterday morning, choosing the tasty morsel of food labeled with the Spanish flag instead of Germany's equally palatable tidbit.
Innocent citizens of Deutschland were bludgeoned by the torrential impact of Paul's judgement. And rightly so; after all, Paul's 100 percent success rate in predicting Germany's matches this World Cup has given them a reason to fear the tentacled prophet. And fear, they do.
"This is not a good omen," wrote Bild newspaper's online edition after the news of Paul's pick made its way across Germany.
A spokeswoman from Paul's home, Sea Life in Oberhausen, Germany, told Reuters, "To err is not only human – animals can also make mistakes. Let's hope Paul got this one wrong."
Has word of Paul's veritable death sentence reached the ears of Mesut Ozil or Miroslav Klose? Does nervous sweat trickle down Phillip Lahm's boyish face? Has coach Joachim Loew spat out his wienerschnitzel in terror?
A cruel twist of fate, indeed. The Germans will trudge on timidly, shrouded in the fear that can only be derived from an octopus.
If Paul is right, and Germany loses, look for Die Mannschaft to snack on calamari after the game.
---
This article is the copyrighted property of the writer and Communities @ WashingtonTimes.com. Written permission must be obtained before reprint in online or print media. REPRINTING TWTC CONTENT WITHOUT PERMISSION AND/OR PAYMENT IS THEFT AND PUNISHABLE BY LAW.