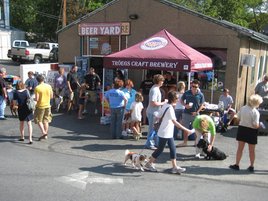 The Beer Yard in Wayne, PA hosted an
SPCA fundraiser on Labor Day Weekend 2010
Serving beer at a charitable event is nothing new. But, your typical beef 'n' beer this is not.
In recent years, the craft brewing world has been a perfect partner in fundraisers for medical research ("Pints for Prostates" was begun by survivor and beer writer Rick Lyke), for the needs of homeless families (Sarasota's Stairway to Belgium hosted such an event this summer), and for local organizations (the Newtown Blues and Brews in Pennsylvania benefits the local fire association and police department).
In the animal kingdom, "Brew at the Zoo" has become a popular annual event at many regional zoos. For example, the Maryland Zoo in Baltimore hosts one in May, the National Zoo in D.C. hosts one in July, and the Denver Zoo hosts one in September. And, Altoona's Blair County Ballpark has hosted "Pints for Pets" for several years to benefit the Central Pennsylvania Humane Society.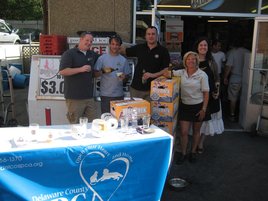 L-R: Nick Johnson, Tröegs; Andy Dickerson,
Teresa's Next Door; Matt Guyer, Beer Yard;
Frances Franchi, Delaware County SPCA;
Owner, Famous Kirby's Chile Pretzels
Last weekend, in the suburban Philadelphia village of Wayne, renowned beer man Matt Guyer and his Beer Yard beer business joined forces with Harrisburg's Tröegs Brewery, Shillington's Famous Kirby Pretzels, and Wayne's Teresa's Next Door to raise money for the Delaware County SPCA.
The event was billed as a weekend-long fundraiser to help raise awareness and money for the local SPCA. Hopefully, an adoption or two would result as well.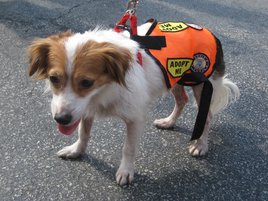 This cutie stands a great chance of
being adopted very soon
The cornerstone of the weekend was a three hour event on Saturday afternoon. The event was blessed with great weather for an outdoor event such as this. With the event set up out front of the store, dogs and people mingled, beers were being poured to sample, and meats were being grilled for those looking to have a late lunch or early dinner.
Fran Franchi, Delaware County SPCA's development director, was overjoyed to see at least 100 people milling around the event and that there is a pending adoption for one of the dogs. Many in attendance brought their own dogs, several of which were rescue dogs.
This year, not only did sales of Tröegs generate $5 for each case, but a generous customer pledged to add an additional $1 for each case sold. From Tuesday morning's tally, 96 cases of Tröegs beer were sold in support of the SPCA. With the stack of bills from food sales and the contribution jar, the unofficial total came to a $914 donation to the Delaware County SPCA.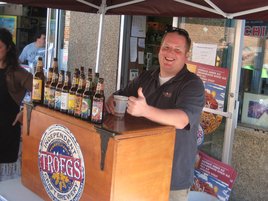 Nick Johnson representing Tröegs Brewery
from Harrisburg PA
Nick Johnson, eastern PA, NJ, and DE 'Brewery Ambassador', reminded me that closer to the brewery's home on the same day they were working with Glenn Miller's Beer & Soda Warehouse on a similar event. The event, Johnson reports, netted a $740 donation to the Harrisburg Humane Society.
'Local' is a word thrown around more than ever, often for good reason, in today's world of food and beverage. On this particular Saturday of Labor Day weekend, a gathering of at least 100 people eating locally-produced pretzels and grilled meats, drinking locally-brewed craft beer, and donating to a local cause espoused all that is good in the world of 'local living'.
For more pictures from the event, please visit The Brew Lounge.
UPDATE 9/10: BeerYard.com reported that the final tally came to 96 cases and a $1,091 donation to the SPCA. Great job to all involved!
---
This article is the copyrighted property of the writer and Communities @ WashingtonTimes.com. Written permission must be obtained before reprint in online or print media. REPRINTING TWTC CONTENT WITHOUT PERMISSION AND/OR PAYMENT IS THEFT AND PUNISHABLE BY LAW.